Not content with almost getting beat up by Orlando Bloom in Ibiza, Justin Bieber has got himself into even more trouble by crashing his car into a minivan and then getting involved in a fight with the vehicle's owners. What an absolute bell end.
Bieber was driving around the rural area of East Perth, in his home state of Ontario up in Canada, on Friday when his ATV (that's an all terrain vehicle, you know like a quad bike) crashed straight into a minivan. Instead of doing the normal thing like apologising profusely and swapping insurance details, Bieber instead decided to get out of his car and start trying to beat up the driver and occupants of the minivan. What an angry young man.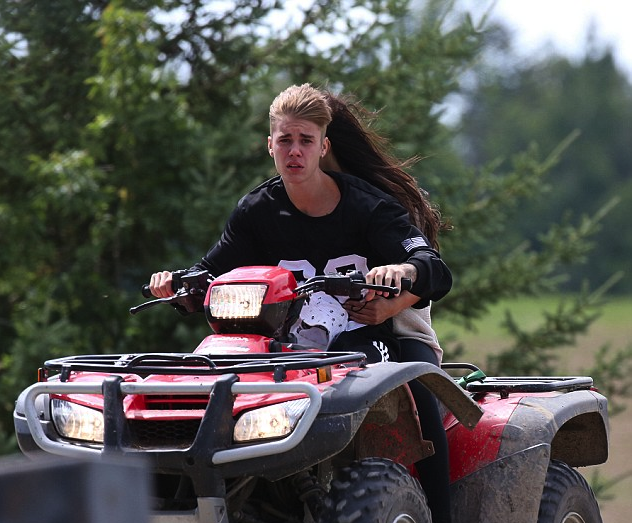 Authorities haven't really released any other details on the incident, other than to say that Bieber is out on bail and is scheduled to appear in court in Stratford, Ontario on September 29th. We can only hope he gets sent down, but a fine that won't even affect him because he's so rich is probably the most likely outcome.
Bieber's people have made some claims that the minivan belonged to paparazzi who were taking photographs of Justin and his girlfriend Selena Gomez (yeah apparently they're back together – who knew?) whilst they were enjoying their vacation and this is what caused Justin to crash into the minivan and assault its owners, although right now there's no other evidence of that. Even if there is, it's still probably no excuse for Justin Bieber's ridiculous behaviour, is it?
Oh and the mug shot above is from his last arrest where he was drag racing cars around Miami whilst he was stoned. He wasn't stoned this time – at least not for certain – it's just that authorities haven't released a mug shot so we don't know what state he was in and I thought it was more appropriate to use a mug shot of him for the article.