Oh dear Bieber, add Orland Bloom onto the list of other celebrities that seem to hate you, including Leonardo DiCaprio and Seth Rogen, after Bloom was seen taking a swing at him at an Ibiza nightclub in the early hours of this morning.
There are a couple of stories going round as to why Bloom felt the need to try and punch Bieber, but none of them unfortunately revolve around Bloom just thinking he was a little twat who deserved a punch. Or better yet an arrow to the face, Legolas style.
No, instead they revolve around Bloom's ex wife Miranda Kerr, who allegedly went on a date with Bieber whilst still married to Bloom back in 2012, a rumour (fact) that Bloom is clearly still irked about. One source says that Bloom was completely unprovoked by Justin and just went over there and tried to lamp him, whereas another says that he got pissed off when Justin Bieber called him a bitch. Either way we don't blame Bloom for trying to lamp the doofus – it's just a shame he didn't connect.
Justin managed to duck and then there was a bit of a kerfuffle between the two with a bunch of people getting involved and in the way trying to break them up, but nothing else really happened with it. There's a really shit video of it you can watch below though that is really blurry and doesn't really show anything happening.
http://www.youtube.com/watch?v=r3LiXnYS-Yc
Bieber pretty much scarpered after that, and posted an Instagram picture (which he swiftly deleted) of Miranda Kerr with a picture of a crown by it, which is bound to fuel speculation that he bonked her while she was still married to Bloom. Someone on that kid's social media team really needs to tell him how to handle situations like this huh?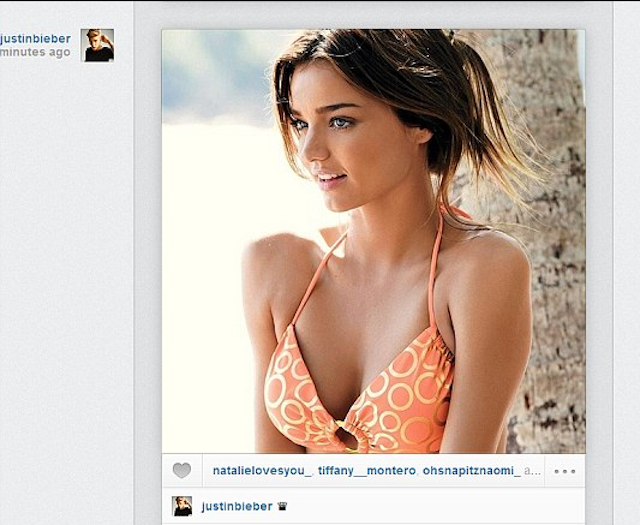 The incident went down at a trendy celebrity restaurant/club over there called Cirpiani which was packed with celebrities – apparently Paris Hilton, Diddy and Lindsay Lohan were all there. Lohan was inevitably trying to add to that list of people she had slept with.