Jussie Smollett was finally arrested and charged with filing a false police report this week after it was revealed that he had paid two friends of his to stage a fake racist and homophobic attack on him. He's also been removed from the final episodes of this season's Empire. 
Featured Image VIA
It's a long story, if you need to be caught up on it before continuing, click HERE.
So yeah, a source at Jussie's TV show 'Empire' has now revealed that when Jussie called the cast and crew of the show on Thursday for a meeting, they were expecting him to come clean about what really happened.
Instead, to the shock of several people in the meeting, Jussie stuck to his story and protested his innocence. For the most part, the source said, he paraphrased the statement that his attorney put out that afternoon, blaming the media and legal system for his woes (despite the media backing him heavily until the evidence showed he was full of shit).
When suspicions first arose that his story was fabricated, 20th Century Fox put out this statement:
The idea that Jussie Smollett has been, or would be, written off of 'Empire' is patently ridiculous. He remains a core player on this very successful series and we continue to stand behind him.
After his arrest, they issued a new statement:
We understand the seriousness of this matter and we respect the legal process. We are evaluating the situation and we are considering our options.
Finally followed by this one, today:
The events of the past few weeks have been incredibly emotional for all of us.

Jussie has been an important member of our EMPIRE family for the past five years and we care about him deeply.

While these allegations are very disturbing, we are placing our trust in the legal system as the process plays out. We are also aware of the effects of this process on the cast and crew members who work on our show and to avoid further disruption on set, we have decided to remove the role of Jamal from the final two episodes of the season.
Yup, looks like he's out of a job.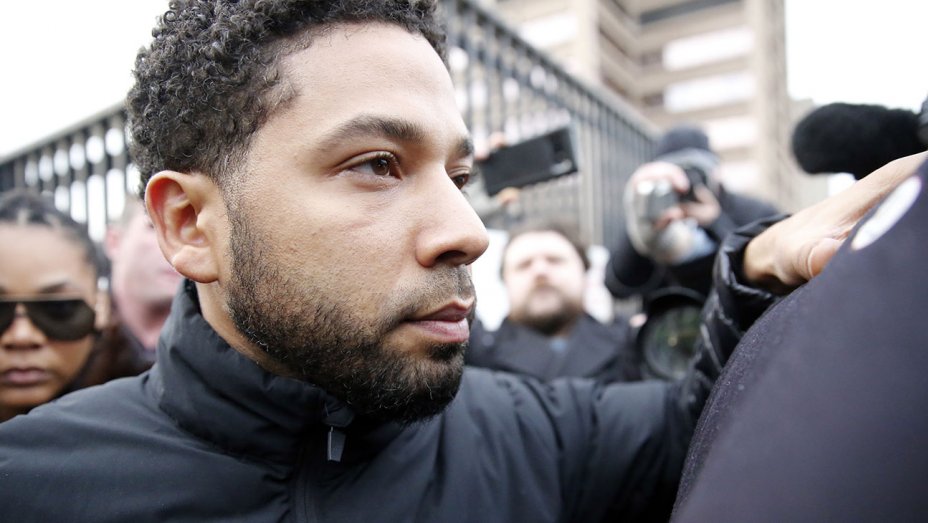 It's just completely mental that Jussie Smollett is sticking to his story after all the evidence that's come out, including actual confessions from the two guys who 'attacked' him. I mean watch the round-up video below – prosecutors even have the cheque Jussie wrote to his 'attackers' and CCTV of them buying MAGA hats and a rope:
Absolute lunatic behaviour to still be telling everyone, even his Empire colleagues, that he's innocent and blame it all on the media and legal system. As if the media wasn't on his side at the start. As if the Chicago police weren't actively trying to find his 'attackers' before discovering the truth.
Come on Jussie. Even the girl who claimed her taxi driver raped her after he refused her kebab-soaked money told the truth eventually. Sort it out.