If you're like everyone else who was wondering why Ecuador changed its mind after 7 years and decided it no longer wanted to protect Julian Assange in their London embassy, we may now have one of the reasons.
Featured Image VIA
The country's interior minister Maria Paula Romo claims 47-year-old Assange had been getting away with some crazy behaviour… like smearing poo on the walls:
During his stay at the Ecuadorian Embassy, during the government of the former president Rafael Correa, they tolerated things like Mr Assange putting faeces on the walls of the embassy and other types of behaviour of this kind that is far removed from the minimum respect a guest should have in a country which has generously welcomed him.'
The country's president Lenin Moreno more or less backed up these claims, accusing Assange of 'discourteous and aggressive' behaviour during his stay at the embassy.
BREAKING: #Assange removed from embassy – video pic.twitter.com/qsHy7ZVPg5

— Ruptly (@Ruptly) April 11, 2019
Here are some examples of that behaviour via ABC News:
He reportedly took over the women's bathroom, per the International Business Times, which quoted sources last January saying Assange had poor hygiene. "It seems he doesn't wash properly," one source told the publication.

A friend and former colleague was quoted saying that "unless the people around him force him into the shower, he might not change his clothes for days."

And another friend said, "Julian ate everything with his hands and he always wiped his fingers on his pants. I have never seen pants as greasy as his in my whole life.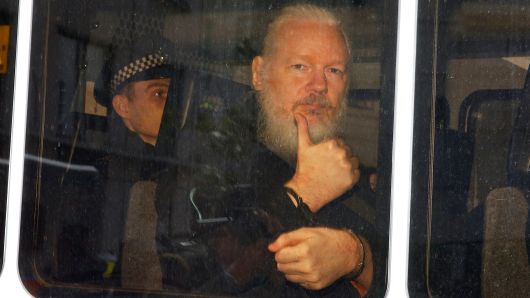 Now obviously this could just be a load of BS that the new Ecuadorian government made up to make Assange look completely bonkers, whether of their own accord or working alongside other governments that want him put away.
The question is what happens to Assange now? If he gets extradited to the US where a charge for "conspiracy to commit computer intrusion for agreeing to break a password to a classified U.S. government computer" is waiting for him, he's pretty much screwed. Will Sweden re-open the Assange rape charges and have him extradited there? If he were to remain in the UK and face a charge of skipping bail though, he'd only be looking at about a year in prison. Something tells me this story is about to get a lot more interesting, whatever happens.
What if he did actually shit himself and smear poo on the walls though? After all he's been holed up in that hotel for 7 years, that's enough to drive anyone crazy. I'd probably want him out of my embassy too if that's the shit he gets up to.
Let's check in with Pamela Anderson's thoughts before we sign off:
I am in shock..
I couldn't hear clearly what he said?
He looks very bad.
How could you Equador ?
(Because he exposed you).
How could you UK. ?
Of course – you are America's bitch and
you need a diversion from your idiotic Brexit bullshit.

— Pamela Anderson (@pamfoundation) April 11, 2019
And the USA ?
This toxic coward of a President
He needs to rally his base? –
You are selfish and cruel.
You have taken the entire world backwards.

You are devils and liars and thieves.
And you will ROTT

And
WE WILL RISE ✊

— Pamela Anderson (@pamfoundation) April 11, 2019
Cheers Pam.
For the biggest leak of CIA documents ever, courtesy of Assange and WikiLeaks, click HERE.