You've gotta think that when your'e famous and everyone recognises you, that it must be pretty annoying when you're constantly badgered by autograph hunters and the paparazzi.
Images VIA
Well, it seems like you would be correct, but some celebrities like Jonah Hill have devised their own unique methods to get around this annoyance. Talking to radio DJ Howard Stern about a year ago, Hill explained that instead of giving fans autographs now, he hands them a business card proclaiming the meeting to be a total letdown:
I think I am pretty good at making movies, but I am not good at being a famous person. I would rather just give people a card and be done with it.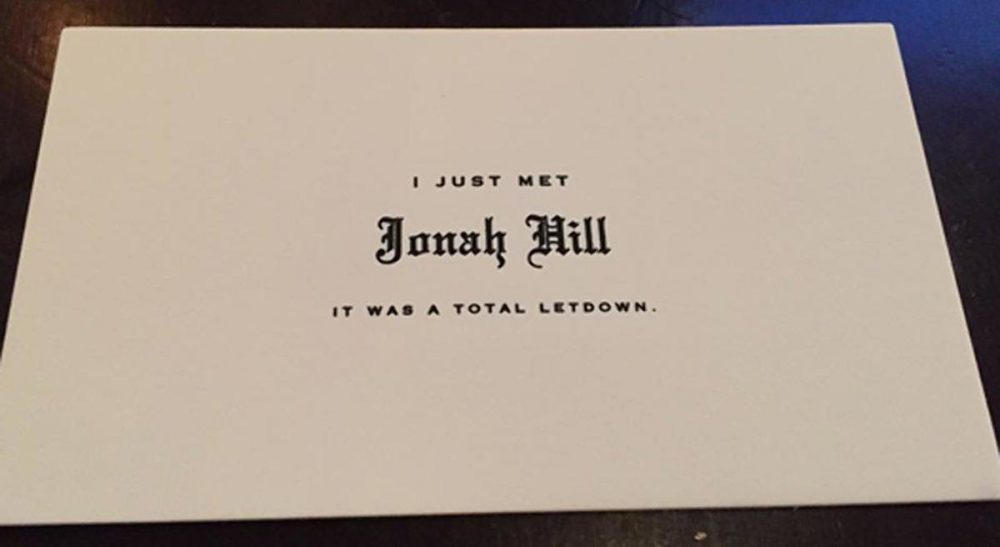 However, whilst I think this is kind of a cool idea if you're nice about it, it turns out that Hill is just a jerk and gives people the card without really talking to them or saying anything. I guess that's the whole point of the card, but still that's kind of a dick move. Anyway, an 'anonymous source' said this about Hill which makes him sound like even more of an asshole:
Jonah actually had these printed up and always is carrying a bunch of them in his pocket. He thinks he is so clever and brilliant.

Who goes to all the trouble? It would be easier to just sign something or take a quick picture. He needs to chill out. He thinks he is very important.
Sounds like someone has got it in for Jonah Hill huh? Either that or he is as big a prick as that makes him sound. I think the business card idea is kinda cool like I said, but I suppose it's not really going to endear him to anyone.
For more Jonah Hill, check him out listing his top seven skate videos of all time. At least he knows his boarding.