The Mortal Kombat series is well known for its brutally OTT and ridiculous fatalities that you can pull off at the end of every fight – they are the main reason the franchise has been going strong since 1992.
Featured Image VIA
A few months back when MK11 was released we covered some of the more vicious fatalities featured in the game, but it look as though some new DLC characters are set to be added to the roster soon and among them is The Joker.
Earlier today someone shared some Joker gameplay footage and his whole fighting style is absolutely bonkers. But just wait till you get to the end and see his Fatality:
What an absolute nut job. To be honest I wasn't initially feeling this version of The Joker (aesthetics-wise), but watching him in action he sure looks like a lot of fun to play. Loving the comically big boxing gloves with the knuckle dusters on the end, not to mention the Batman doll he uses to shoot bullets out of. Good to have some comedic effect before you bash your opponent's skull in with a cane and blow them up with a birthday cake eh?
We've sure come a long way from the old school Mortal Kombat fatalities of the 90s: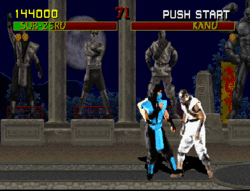 For a look at the hilariously awful Ghanaian Mortal Kombat movie, click HERE.