The new Joker movie starring Joaquin Phoenix hasn't even come out yet but critics are already claiming it is 'problematic' and emblematic of white terrorism and that the impulse to violently snap after being constantly rejected and stepped on in life is a symptom of 'white maleness'.
Featured Image VIA
They argue that 'Joker' shouldn't make us sympathise with such a character. 
Here are some examples: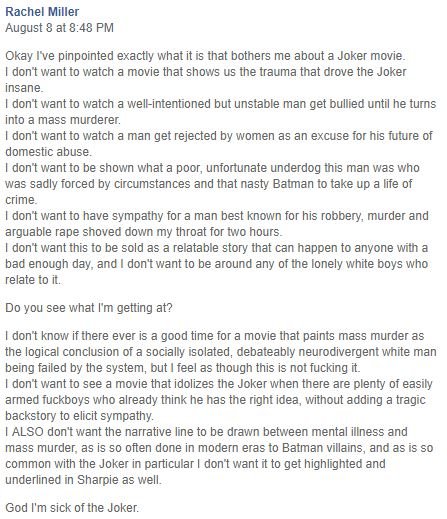 It was not that long ago when a socially isolated disgruntled white man who felt "wronged" by society quite literally dressed up as the Joker and shot up a movie theater in Colorado.

— Heather Antos (@HeatherAntos) September 6, 2019
Well according to The Telegraph, the film's star Joaquin Phoenix walked out of an interview after this topic was put to him, first asking the journalist why they would ask such a question.
He was later persuaded to return and continue the interview.
Director Todd Phillips confirmed the movie's R rating (15) recently, with Joaquin telling the New York Times that he found playing the role terrifying:
I didn't really know what it was. I didn't know how to classify it.

I didn't say, "This is the character I'm playing." I didn't know what we were going to do. It was terrifying.
Meanwhile Todd Phillips says that convincing Phoenix to be a part of the movie was a nightmare:
I was going to his house, basically begging him to do the movie. I go, "So I keep coming up here every day. At some point you, you gotta say are you in or out.

And [Joaquin] said, "That's not how you do it"… I always say he never really signed onto the movie. One day he just showed up at a wardrobe fitting.
If you haven't seen the final trailer yet, check it out:
The first reviews of Joker from those who have actually seen the film have been overwhelmingly positive, but who knows, these other critics may have a valid point worth considering. We'll have to decide when we see the film for ourselves in October. Can't wait.