Four men with guns were arrested in California yesterday in an Operation Ceasefire sweep, and when the police department posted a mugshot photo of one of the crooks – 30 year old Jeremy Meeks – on Facebook, it promptly went viral because women were literally dripping wet just looking at him.
Meeks, being held on a $900,000 bond, is "one of the most violent criminals in the Stockton area".
Here's the pic decorated with some of the comments people have left around the web: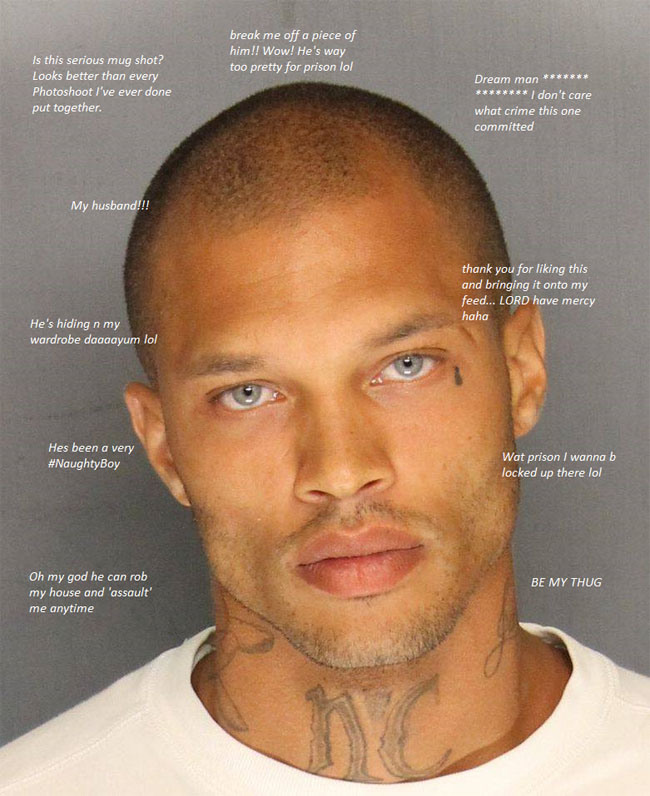 Well, let's say it like it is — Jeremy Meeks is one dreamy motherfucker. Those eyes and cheek bones would melt the heart of even the most hardened convict (no pun intended). Plus it sounds like he's a real badass killer unlike some other bad boys we could mention.
Shame he chose the thug life over the superstar actor/model life. Guy should be hanging with Leo and his models or with a crew of Z-list celebrities at the very least, and now that this mugshot has gone viral he might actually get a chance to do that. You know, once he's out of jail.