'Joker' is currently out there breaking all kinds of records both critical and commercial as it smashes its way into being one of the most successful movies of all time, but there's one man out there who is less than pleased with its success: Jared Leto.
Featured Image VIA
You probably remember that Jared played the Joker in the frankly terrible Suicide Squad movie a couple of years ago and it turns out that he was hoping that they were going to build a new Joker franchise around his character, but this obviously didn't happen because the movie was so awful and his Joker in particular was badly received. Turns out that Jared couldn't just let this go though and actively tried to block Joaquin Phoenix's Joker movie from being made, calling literally everyone he knew with some influence in Hollywood to try and run it off the tracks.
The Hollywood Reporter expands on this: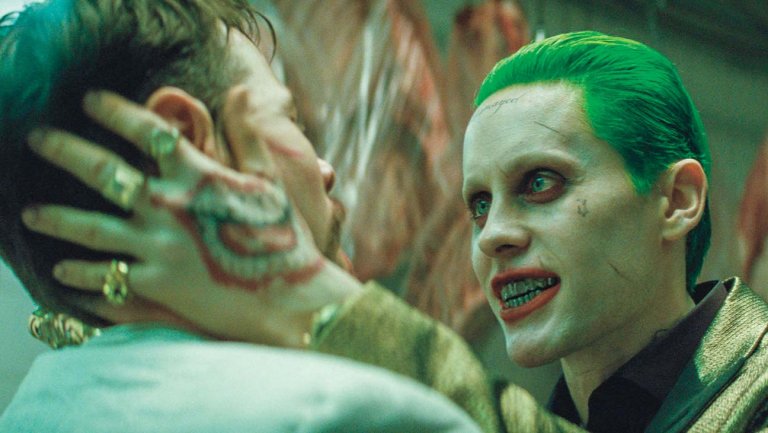 According to sources familiar with Leto's behavior, when the Oscar-winning actor learned of the Phillips project, he not only complained bitterly to his agents at CAA, who also represent Phillips, but asked his music manager, Irving Azoff, to call the leader of Warners parent company (it's unclear whether it was Time Warner's Jeff Bewkes or AT&T's Randall Stephenson, depending on the timing). The idea was to get Warners to kill the Phillips film.

A source in Leto's camp denies that the actor made this request, and Azoff declined to comment. Azoff and Leto have since parted ways.

THR previously reported that the 47-year-old star, who played the grinning crime lord in 2016's Suicide Squad, thought Warners had strung him along with promises of his own Joker stand-alone film, only to greenlight the Phillips' version with Joaquin Phoenix instead. Ironically, Warners thought the Phillips project would be a small movie and, nervous about its dark tone, greenlit the pic reluctantly with a small budget that some at the studio were hoping would discourage Phillips from making it.

Meanwhile, Leto's unhappiness over the Phillips project seems to have helped end an already strained relationship between Leto and CAA. Sources say the actor felt his agents should have told him about the Phillips project earlier and fought harder for his version of Joker. Sources say Leto told his agents that they should stop the rival project, arguing that he wasn't being treated properly as an Oscar winner (for Dallas Buyers Club). But a person with first-hand knowledge of the situation contends that by then, Leto had burned through four different teams of agents at CAA and there was little love for the actor there.

Leto left CAA for rival WME over the summer. A source in Leto's camp says the rocker-actor had been looking to make a switch and denies that the competing Joker movies factored into his decision.
Wow. Sounds like he was really upset about the way he was treated regarding Joker hey? I kinda get his point about perhaps not being treated that well considering he's an Oscar winner, but man it seems like he was way too butthurt over this. Just understand that you sucked at playing the Joker and that it was really weird that you sent Margot Robbie a dead rat during the production of the movie. Lamewad.
For more of the same, check out Joaquin Phoenix storming out of an interview about Joker. Seems like everyone's getting angry about the character.