Leicester City manager Craig Shakespeare has revealed that he helped talk Jamie Vardy out of quitting football in 2013 to work in Ibiza as a party rep.
Featured Image VIA
Vardy had joined (pre-Premier League) Leicester the previous year from Fleetwood for a fee of £1 million.
Vardy only scored five goals that season, and was seriously considering packing it all in to go to Ibiza, until Shakespeare convinced him of his potential.
Vardy says:
The move to Leicester wasn't working out for anybody and I didn't see any value in going through the motions for the final few months of the season. I was in a downward spiral, where I was drinking too much — some of it home-brewed — and not scoring nearly enough.
He said he had visited Ibiza with Stocksbridge reserves in 2007 and then again in 2008 with his friends "and it represented nonstop partying in my eyes."
Vardy had also said on camera back in 2010:
I'm signing for Ibiza Town. I'm going to Ibiza on holiday and I'm never coming back!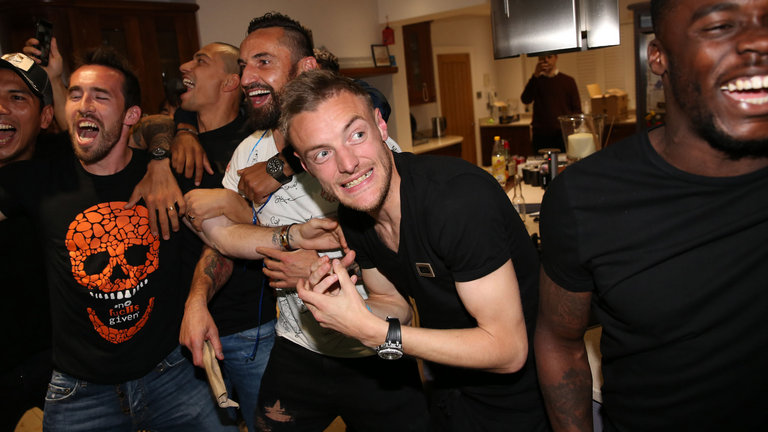 Blimey. Sounds like Jamie Vardy really likes Ibiza. Almost like he'd rather be rolling his balls off on the beach than scoring 24 goals in the most unbelievable season in football history.
Luckily, Craig Shakespeare was on hand to convince him that his future did not lie in rounding up hen parties on the street with the promise of a queue jump at some dodgy Ibiza nightclub. Instead he joined Leicester as they progressed to the Premier League and played a key part in helping them win the whole thing at odds of 5000-1. Reckon he made the right choice there.
Speaking of Ibiza, here's a video of Peter Crouch completely off his tits there last year.