It seems like pretty much all we're talking about today is Jake and Logan Paul's antics at their supremely stupid press conference with Floyd Mayweather last night, so here's another article about the dumb fallout from it.
Featured Image VIA
I think we all know that Jake Paul stole Floyd Mayweather's cap and then danced around shouting 'gotcha hat' in front of him and I've gotta admit that that was absolutely hilarious. Paul might be milking it slightly too much though as not only has he started selling some limited edition merch of the phrase, he's also immediately gone and got himself a tattoo of it as well.
Check it out: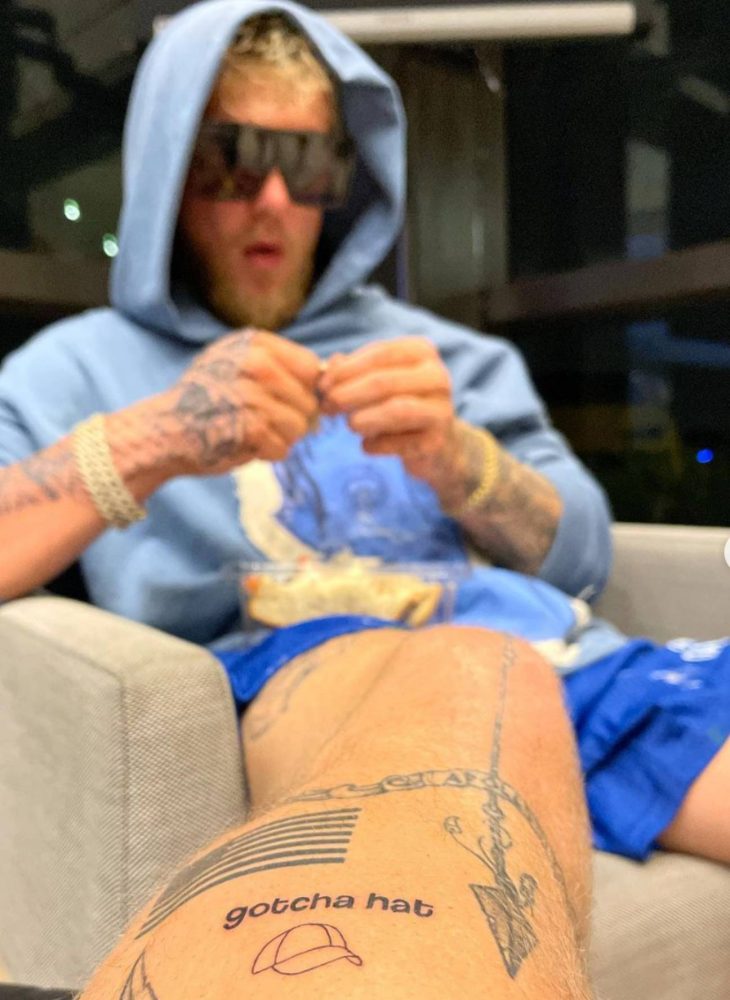 Eh I dunno. Maybe that is a bit lame but in fairness to the guy, it's a completely and utterly iconic move from him that people will be talking about for years to come owing to how mad and angry Floyd Mayweather got over it, so why not get a tattoo of it? Most of his tattoos are crap anyway, so it's not really like he's screwing up his sleeve or anything either. That little picture of the cap is so funny too.
Also lol at him eating that crappy little sandwich? I always imagine multimillionaire celebrities eat the sickest swankiest food all the time, but apparently they buy awful pre packaged sandwiches like all the rest of us. Who knew?
For more of the same, check out this story about Jake Paul FaceTiming Donald Trump. As much as I hate to say it, he really is having a killer year.