Whatever you think about his ability on the pitch, it seems like Jack Grealish is the new bad boy of English football as he seems to be getting into trouble off the field of play fairly consistently these days.
Featured Image VIA 
Earlier this year, he crashed his car coming home from a party at six in the morning right at the start of lockdown, and he's since followed that up with breaking regulations again to celebrate Ross Barkley's birthday a couple of weeks ago and a couple more dangerous driving offences. However, today's incident really takes the cake after a perfect 4K picture has been circulating on Twitter of him lying in his dressing gown in bed with a naked woman hanging her boobs out in his face.
We're not going to publish the uncensored picture here because this woman surely hasn't consented to having a naked picture of her spread all over the internet, but it's not exactly hard to find it if you want to see it. If you're interested in football, it's probably already been sent to a WhatsApp group you're in anyway.
Here's a censored version though: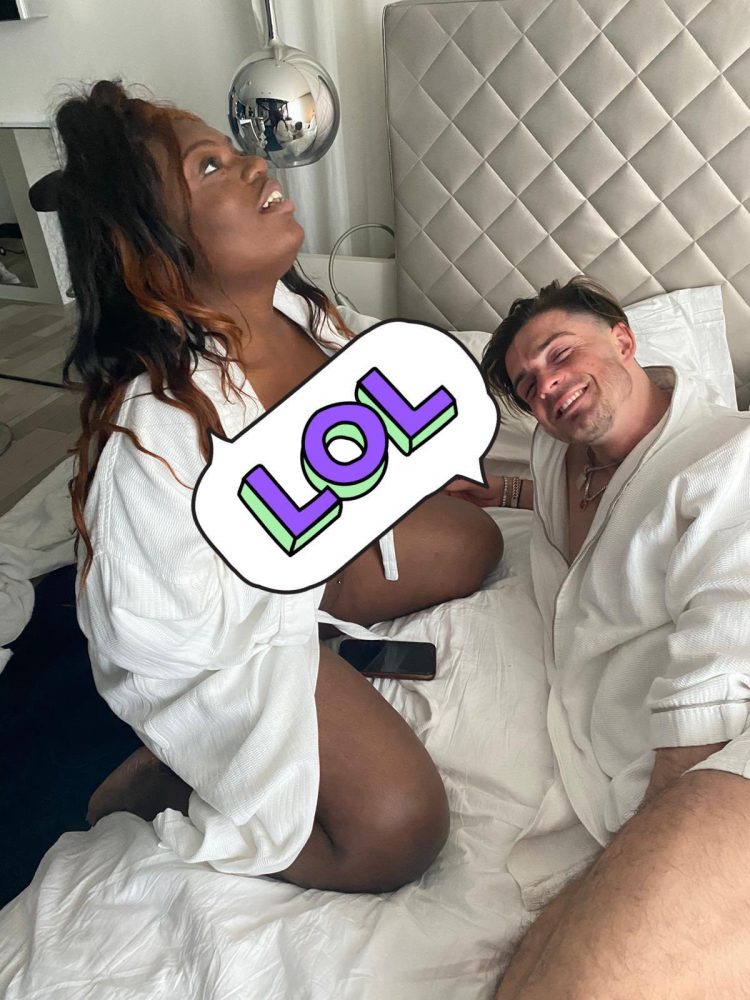 Now, there's nothing funny about Grealish hanging out enjoying himself with a woman, but obviously the question here is going to be whether or not he's violated COVID regulations again. There are clearly at least three people present in the photograph and it's possible that they're all in the same support bubble or maybe even all live together, but I'm not sure if anyone is going to buy that given this picture..
Firstly, the fact that Grealish and the woman are both wearing robes kind of implies they're in a luxury hotel or similar, so I'm sure people are going to put two and two together and assume he was out partying again, especially after the brouhaha about Barkley's birthday party. Again, not really anything wrong under normal circumstances with that, but during the current pandemic situation it's not going to go down too well with the general population.
Main problem Grealish has is that he's clearly hanging around with some really shitty people that are keen to sell him down the river whatever chance they get. Kinda feel sorry for the guy in that respect, but he should probably just be more sensible and all this shit wouldn't happen to him. Time to grow up son.
Obviously a bunch of stupid memes have already appeared on Twitter about this and to be fair some of them are pretty funny:
Jack Grealish moving mad icl pic.twitter.com/amsEFjBDzg

— N (@Nino12x) December 10, 2020
Jack Grealish's next goal celebration pic.twitter.com/gnNrv2zP8q

— #14 (@AFCTempo) December 10, 2020
Jack Grealish when they ask him to explain that photo pic.twitter.com/ji1sNQYk9U

— Just Dims. 😌 (@DimitryRO) December 10, 2020
Jack Grealish in the Aston Villa changing room next match pic.twitter.com/VuJmD1KK7Y

— $🦄. (@vloneshaz) December 10, 2020
For more of the same, check out this Aston Villa fan who wrote a limerick every day until Jack Grealish got into the England squad. Sad bastard.