Back in the day, advent calendars used to only consist of chocolate and that was it, but nowadays it seems like pretty much anything goes when it comes to what to put in them.
Images VIA 
The latest company to come out with a novelty advent calendar that's sure to fly off the shelves is Jack Daniel's, who are releasing a whiskey themed calendar that is going to contain 1.5 litres of the stuff in it. Here's how the website describes it:
This year, friends of Jack Daniel's can share the holiday spirit with the Jack Daniel's Holiday calendar – a Tennessee twist on the traditional holiday calendar.

Behind each door of the holiday calendar, friends of Jack will find one of their favorite Jack Daniel's bottles.

The calendar includes 23 miniatures from across the Jack Daniel's whiskey range including Jack Daniel's Tennessee Whiskey, Jack Daniel's Tennessee Honey, Jack Daniel's Tennessee Fire, Jack Daniel's Gentleman Jack and Jack Daniel's Single Barrel.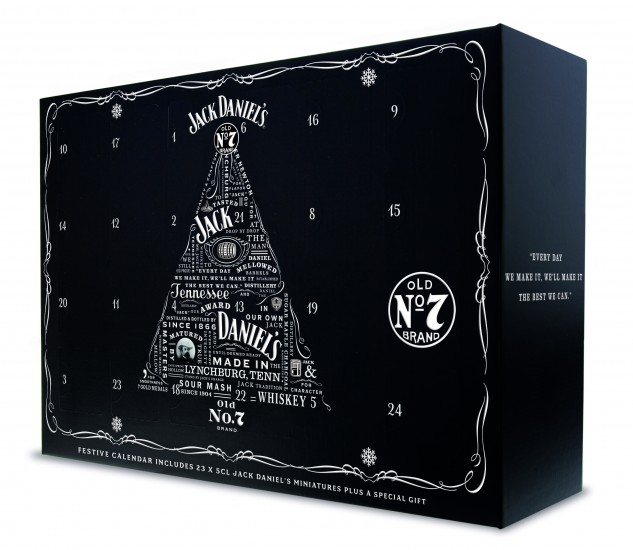 OK so I'll be the first to admit that I don't know what half of those are but I suppose that would make it a good idea to pick up the advent calendar then hey? You know so I can learn about all these great flavours offered by Jack Daniel's. I swear this isn't an advertorial because I'm not that big a fan of their whiskey, but it actually might be nice to learn about those different varieties eh? Maybe?
If you're interested in such an item, then it will unfortunately set you back a whopping £60 but I suppose you would pay almost that for a 1.5 litre of Jack Daniel's wouldn't you? Maybe I dunno, I don't drink the shit but you gotta look at it like you get all these different flavours and this nice gift case. And they throw in a hip flask too. What are you waiting for?
For more Jack Daniel's, check out this crazy Welsh dude chugging a whole bottle of it in 13 seconds. Incredible.