Remember this weird looking girl from Iran who claimed that she had plastic surgery to look like Angelina Jolie but then actually ended up looking nothing like her and it was Photoshop/makeup anyway?
Images VIA 
I remember her now that I see her face obviously, but I'll be honest and say that like most overnight viral superstars I hadn't exactly been paying attention to what she was up at the moment. Maybe I should have though, because it turns out that she's been arrested by the Iranian government and sentenced to ten years in prison for being a social media influencer and that's completely mad?
An Iranian journalist named Masih Alinejad told MailOnline that she had spoken to Tabar's lawyer and confirmed that she had been sentenced to 10 years in prison: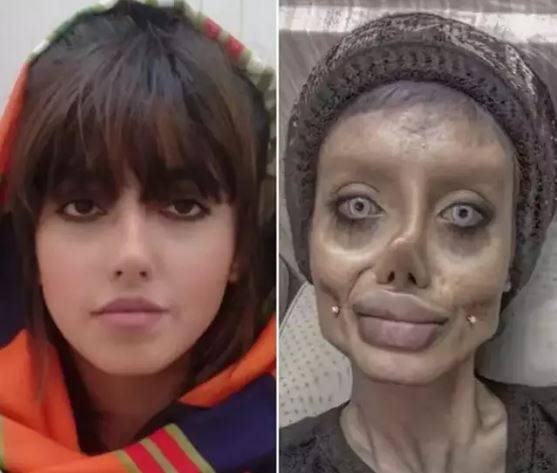 10 years jail for Iranian Instagrammer who used make up & Photoshop to become a zombie Angelina Jolie.

She has been jailed for blasphemy, inciting violence, gaining income through inappropriate means and encouraging youths to corruption.

Sahar Tabar is only 19. Her joke landed her in jail. Her mother cries every day to get her innocent daughter freed.

Dear Angelina Jolie. We need your voice here. Help us.
What an absolute joke. I mean maybe inciting violence and gaining income through inappropriate means are perhaps bailable offences, but surely not for ten years? And you've really gotta wonder just how bad the stuff she's been doing was considering she was just a 19 year old girl. Seems a tad extreme, even if she is a social media star (three other social media influencers were arrested at the same time as her as well).
Hopefully the real Angelina Jolie gets involved and we can figure out if she really deserves such a harsh sentence, but right now it seems pretty questionable. You can already see a movie being made about it can't you?
For more of the same, did you know that she also had Coronavirus as well? Not a great year for her.