If I were to show you Australian Instagram model Jordan Finlayson's IG account, you would probably think she was just another basic Instagram model.
Featured Image VIA
https://www.instagram.com/p/Bs13NK3gQzy/
https://www.instagram.com/p/BoN1Xlnj-yH/
https://www.instagram.com/p/Br-AA9UAJYs/
https://www.instagram.com/p/BnYVXBlDJOT/
Her bio would also back this up: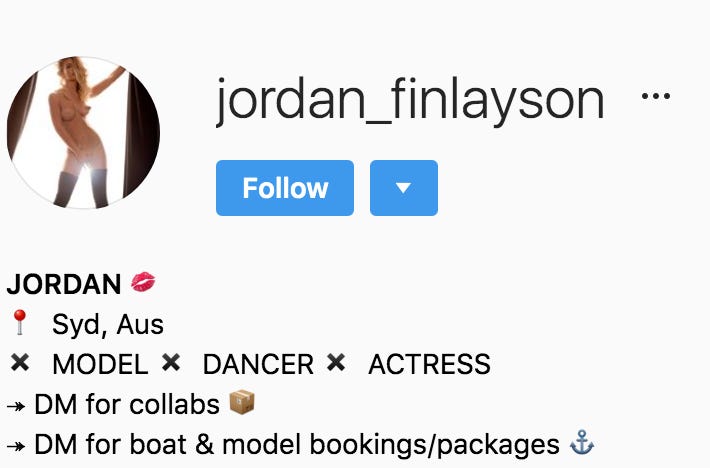 Well I bet you'd be surprised to know that Jordan Finlayson is so much more than just an Instagram model. In fact Jordan is (well, was) one of the biggest drug dealers in Australia.
The 28-year-old and her boyfriend Martin Roser, 30, have just been arrested for running a major drug dealing operation after officers seized heroin, methamphetamine and gamma butyrolactone (GBL) at their home.
The pair were charged with 15 offences relating to the supply of drugs including supplying prohibited drugs in a commercial quantity.
https://www.instagram.com/p/BxbpNJqJ-S3/?utm_source=ig_embed
https://www.instagram.com/p/BoDXZhOjn_J/
https://www.instagram.com/p/BnVIdLXjs8M/
A 'commercial quantity'! This wasn't just a little side hustle for these two to earn a few extra bob, this was a legit drug dealing operation. What I want to know is how Jordan and Martin were caught? Also, what the hell is gamma butyrolactone? Whatever the case I guess the lesson here is that while being a drug dealing couple is a great idea in theory, it hardly ever works out IRL. You live and you learn.
For the elderly couple who were accidentally delivered £5 million worth of meth and what they did with it, click HERE.