Just when you thought 2020 had seen enough with the pandemics, murder hornets and looting/riots raging on across the world, we now have the only two countries in the world that boast over a BILLION residents each squaring off in a deadly clash between their militaries at the shared China/India mountain border.
Featured Image VIA
Indian soldiers' lives lost in clash with Chinese soldiers in border region "will not be in vain" – Indian PM Modi https://t.co/i0spx11PAU

— BBC Breaking News (@BBCBreaking) June 17, 2020
At least 20 Indian troops and 40 Chinese soldiers have died at the clashes, which according to India, kicked off when China tried to erect a structure in the Indian territory, whereas China blames India for attacking first. Via the BBC:
The Indian and Chinese foreign ministers have exchanged protests over clashes in a disputed Himalayan border area which led to the deaths of at least 20 Indian troops.

India's Subrahmanyam Jaishankar said China tried to erect a structure inside Indian territory, while China's Wang Yi said Indian troops attacked first.

But in a phone call both men promised not to escalate the situation.

It was the first deadly clash at the disputed border for at least 45 years.

Soldiers reportedly brawled with sticks and bats but no shots were fired.

China has not released casualty figures. Unconfirmed reports in Indian media say at least 40 Chinese soldiers died. Some Indian soldiers are still believed to be missing.
Of all the countries you don't want to see going to war at the moment, the two most populous ones are probably right up there. 60 people dead so far and all in old school fashion using fists, kicks, sticks and bats.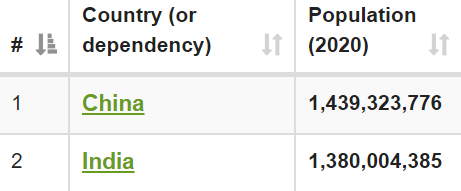 They're apparently burning each other's flags now too, which is how you know shit has gotten serious. But what are the governments saying?
China says it has agreed with India to de-escalate border situation https://t.co/n8XsGDe8mM pic.twitter.com/cZagyVKtt9

— Reuters (@Reuters) June 17, 2020
Well that's nice. We can all take China's word for it that they're trying to de-escalate the situation, right? Not like they've ever lied to the world before. Still, something to keep an eye on when you have the two most populated countries on the planet fighting and winding each other up in the middle of what's already been a bat shit crazy year (no pun intended).
For the Chinese councilor who filmed himself breaking 53 chop sticks with his anus, click HERE. Wonder what he makes of all this?