We were talking a couple of weeks ago about how it was going to be pretty much impossible to celebrate Halloween over here like we usually do, as it's unlikely that any Halloween scare mazes are going to be opening up or that you'll even be allowed to go trick or treating, but thankfully some people are coming up with alternative arrangements.
Featured Image VIA 
The latest one of these is an immersive drive thru cinema that's going to be located at Park N Party in Manchester and will be called ScareCity. The cinema will be screening the following movies from October 12th – November 1st: 'The Conjuring', 'IT', 'The Invisible Man', 'The Hills Have Eyes', 'Child's Play', 'The Ring' and 'Scary Movie' and it will cost £35 per vehicle to get in with a £3.32 service fee. Not really sure what the extra fee is for, but there you go.
ScareCity is taking over @ParkNParty_ this Halloween! 🦇

☠️Tickets are officially LIVE☠️
Book now: https://t.co/bN7Y6Jh1GH pic.twitter.com/5MWF8UNOqj

— Park N Party (@ParkNParty_) September 16, 2020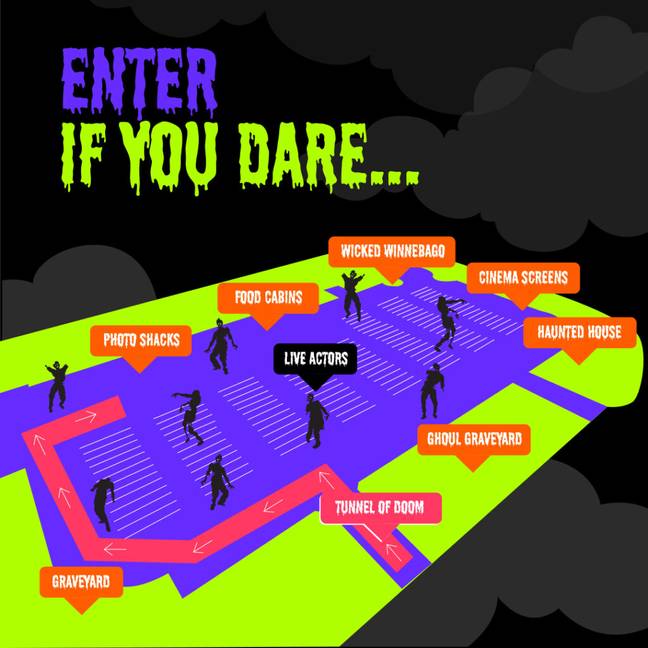 This looks like it could be fun, I'm kinda a bit confused about the layout above though, because surely the event has been designed so that you stay in your cars and observe socially distancing with some zombies coming around and scaring you every now and again when you're watching the films? Seems a bit weird that there's a haunted house and a bunch of other attractions like photo shacks and food places when you're supposed keeping COVID secure in your vehicle, but I'm sure they know what they're doing, just like the government.
Talking of which, it's unlikely that this will even happen now as it looks like we're going into another lockdown after the briefing I just watched whilst I was writing this. That's gonna be a major bummer, but hopefully stuff like this can still go ahead. Wouldn't hold your breath though.
For more of the same, check out this drive thru maze that is opening this Halloween. That still might be able to go ahead I guess?