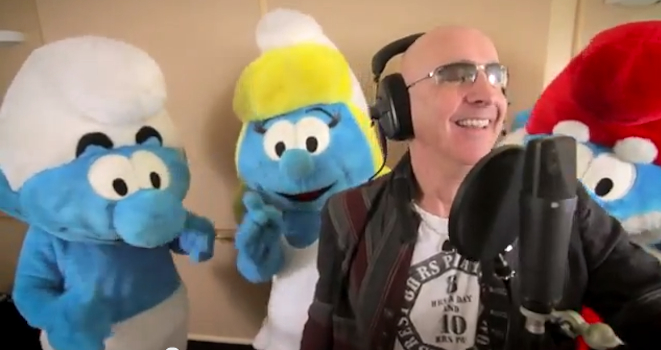 Wow. I know I bang on about crap music videos a lot on Sick Chirpse and it seems like every week I come out with a new one – remember Jedward's effort a couple of weeks ago that had the Jedward army ripping into me? – but this is a whole new level of desperation and despair.
Even if you're not as old as me then you've probably heard the Right Said Fred song 'I'm Too Sexy' because it's just one of those dumb songs that everyone has heard and knows because let's face it, it is really dumb but also catchy and kind of funny at the same time, and the fact that two weird looking bald men sang it makes it even funnier. I think it came out in 1993 and it was in the UK charts for ages, and apparently it even went to number one in America which is massive and somewhat unbelievable. But yeah, it did – it's right there on Wikipedia.
I don't really know what happened to Right Said Fred after that. I remember they had a follow up called Deeply Dippy but after that they seemed to drop off the radar completely. After checking their Wikipedia page though it seems like they've released about six more albums and are still kind of big the the US and completely massive in Germany and Japan. Baffling.
And that makes this video even more puzzling. I figured that Right Said Fred had agreed to re-record 'I'm Too Sexy' as 'I'm Too Smurfy' for the new Smurf movie coming out in the summer because they were broke and needed the cash, but it seems like they're almost certainly not as they seem to be releasing records that get to number one in weird countries all the time and seem to still play a load of shows and festivals in weird countries all the time. I guess maybe they thought that the opportunity to be in the new Smurf movie was too good to turn down. Probably still got a pretty penny for it though, sure.
Either way this is really embarrassing for him/them, especially the video. It's bad enough that they've changed all the 'sexys' to 'smurfys' and have changed 'catwalk' to 'Smurfwalk' (what!?!?) and some of the lyrics to being about Papa Smurf and the various other Smurfs but it's the video that really hammers home how painful this is. The dude from Right Said Fred – or is he just Right Said Fred on his own, not sure – is in the studio with the Smurfs recording the track and it's really cringeworthy.
There are some typical studio shots of some knobs and some dials which aren't edited well at all and linger on them way too long, and then you cut to Right Said Fred singing the words to the song off a sheet into the mic with a sprayguard. I don't get why videos do that because he obviously isn't recording it live then so why have him read it off the sheet? It just makes it look like he cares even less about the project than he already does as he hasn't bothered to learn the words yet. Smooth.
The rest of this video is Right Said Fred desperately trying to appear enthused as he dances around with a bunch of people in Smurf costumes in the stuido. Great. There is one part around 1.40 where he realises the banality of what he's doing and looks like he's going to snap and strangle the nearest Smurf in sight but he reins it in and keeps going, so make sure you watch out for that. Hero. There's also a bit of a twist at the end of the video – if you can keep watching it that long – although it's not anything impressive it's more just like 'ugh, they're really that devoid of inspiration for this video that they went for that and didn't even do it well huh?'
You can check out the video below. Oh yeah and another thing, Right Said Fred are almost 60, so that means when 'I'm Too Sexy' came out they were almost 40. What!? I guess maybe they saw the Smurf movie as one last big payday, that probably explains it.
☛ More Terrible Music Videos:
Google's Horrible Music Video Is Proof Of Everything Wrong With The Music Industry 
John Ewbank's Koningslied The Worst Song Ever 
Rebecca Black Has A New Music Video
[yframe url='http://www.youtube.com/watch?v=HzrT7vREies']