We featured a preview of the House Of Peroni about a month ago when it first announced its residency on Brick Lane. We had been particularly excited about the fact that Michelin starred chef Accursio Craparo was preparing a six course taster menu based around the them of Italian daily life that had our tastebuds watering. We definitely wanted to sample this so we booked ourselves in for it yesterday.
The House Of Peroni itself is a spectacularly elegant venue with waiting, door and bar staff that are well presented and friendly with many of them actually being native Italians. It's spacious and oozes class and pretty much succeeds in its attempt at replicating the Italian Piazza.
The meal itself took place at a specially designed table that all the guests sat around that actually had a clear glass window in the middle of it that enabled diners to actually look below them at the chefs preparing their meal. Craparo himself also introduced the meal to his guests via an interpreter as we nibbled on his homemade bread and olive oil and sipped on Peroni Nastro Azzurro. Both of these moments were brilliant touches that were an excellent start to an unforgettable evening.
The first course was some wafer crisp bread accompanied with some homemade pate. The crisps had an unusual but delicious texture and the pate was awesome too. At this point I was confident that Craparo knew what he was doing and that I would be experiencing a great meal.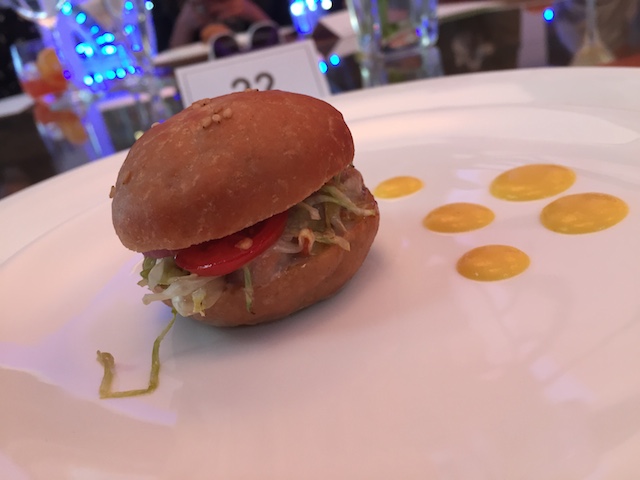 Next up was some tuna tartare. I was a bit perplexed when it arrived as it looked like a mini burger, but this was actually the genius of the dish – the burger bun itself was actually made of tuna, not the filling itself. This was another excellent course and was truly innovative in its presentation.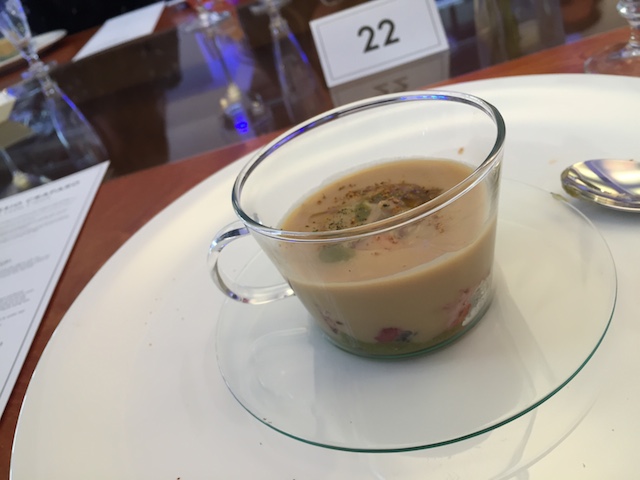 We then had some octopus tentacles in a soft cream of broad beans with wild fennel. This was probably my least favourite of the dishes as I'm not a huge fan of octopus – I find it slightly chewy and creepy to eat because it's kind of weird thinking you're eating a tentacle – but that's not to say that it wasn't great. The broth was nice but the octopus just doesn't really agree with me.