The House of Peroni Residency is heading to East London for one month of drinking, eating and generally having a good time in the summer sun. It's located at 152 Brick Lane and will be open from the 14th of May until the 10th of June.
The idea behind the pop up restaurant/bar is to bring the very best of Italian culture to London. To do this, Michelin starred chef Accursio Craparo will be temporarily leaving his restaurant in Siciliy to come and cook some of the best Italian food known to man in the heart of East London. Award winning Italian molecular mixologist Simone Caporale will also be in attendance to ensure that the exquisite cuisine is matched by the quality of the drinks too.
Although there's a specially designed Sicilian style 6 course taster menu at The Residency throughout the week, every Friday night will be a celebration of street food where guests will be able to sample a selection of Sicilian inspired street food, with Italian traders changing weekly. That basically sounds like an awesome way to kick off your weekend, especially if you accompany it with some of the specially designed Peroni Nastro Azzurro infused cocktails that they're also selling.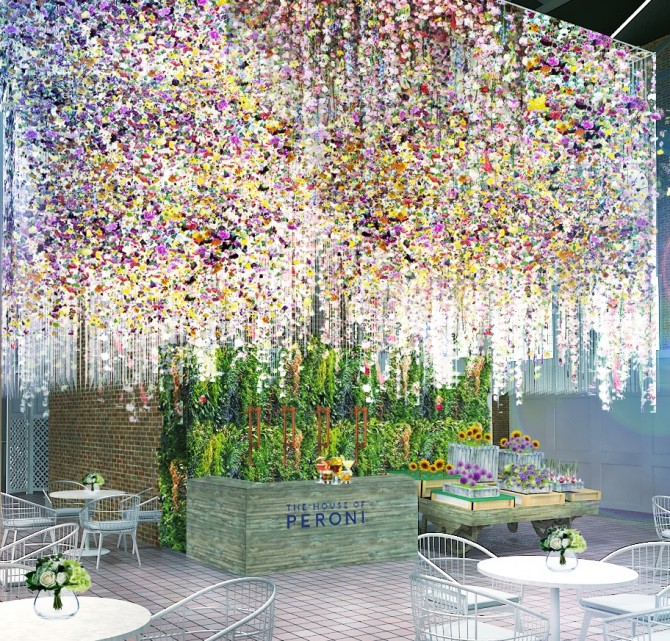 The Residency will also feature the immersive work of Italian light artists Luminarie De Cagna and has been designed by natural sculptor Rebecca Louise Law – whose installation you can see above – so it's going to be a really hip, cool and different space to hang out in. The Residency itself is inspired by the Italian Piazza – the social hub of the city – and in addition to the high quality food and drink that will be available, the space will also be throwing several events during the month including a cinema screen that will be showing some classic Italian movies.
The most exciting looking events are probably the mixology classes, where Simone will explain the tips and tricks behind molecular mixology and attendees will learn how to change liquids to solids, foams and jellies and use them to enliven any classic cocktail. That sounds to me like something you don't want to miss, especially with the summer and BBQ season fast approaching. You also get a complimentary Peroni Nastro Azzurro if you head to the mixology course which should be enough to sweeten the deal if you were on the fence about it beforehand.
For more information about all of these events and to book your spot for any of them, head over here. Be quick though – some events are already selling out and when this place opens it's guaranteed to be rammed pretty much every day.