Kevin Spacey is really good at acting.  He has at least two Oscars to prove it and is also artistic director at the Old Vic Theatre in London. This is a man who could read off the back of a cereal box and somehow make it compelling and profound, but up until very recently it felt like old Kevbo was under the radar a bit and we weren't sure what he was up to. Well now he's back and dropping some serious knowledge on fools in the new series House Of Cards:
☛ Check This Out Next: Oz – The Best Show You Never Saw 
[yframe url='http://www.youtube.com/watch?v=ULwUzF1q5w4′]
House Of Cards is a US TV show made for – and screened exclusively on – Netflix under their Original Series banner. This is actually a much bigger deal than people seem to realise as shows like this will completely change the way we watch TV in the future but anyhoo, all 13 episodes are now available for your viewing pleasure. It's actually based on an old political drama shown on the BBC in the early 90s starring another top acting bloke, Ian Richardson;
☛ You Have To See This: Failed Political Assassination Attempt
[yframe url='http://www.youtube.com/watch?v=ylu3x72WHTs']
The US version moves the story to present day Washington DC, where Spacey plays scheming congressman Frank Underwood, a party whip for the Democrats who gets royally shafted for a top job and then sets about shafting everyone back via some crafty under-handed Machiavellian wheeling and dealing. There's a bunch of talented people involved with the show (Fight Club/Se7en director David Fincher helmed the first two episodes) but Spacey, complete with laconic southern accent, steals every single episode effortlessly. By turns charming, sinister, ruthless and commanding, even his eyebrows deserve some sort of Emmy.  One thing which the show takes from its British counterpart is Frank's gimmick of talking to the camera in any situation, treating the viewer like some of hidden observer. This makes for some of the show's best moments, especially when Frank will be chatting with someone only to look at the camera mid-conversation and pull his trademark "See what I have to put up with?" face. He does this a lot as he's surrounded by people less intelligent than he is. Every now and again he has to be a complete bastard too, but that's fine because everyone likes a good bad guy. And it's fun to watch him talk about how nasty he can be.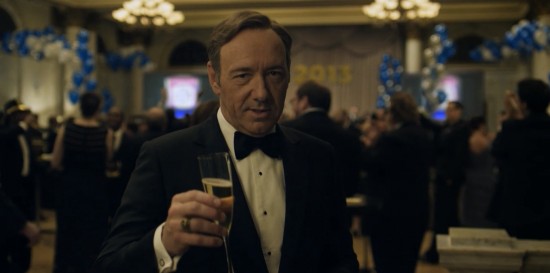 The show isn't perfect; it's dense with a ton of bureaucratic back-and-forth and an awful lot to keep track of, so much so that at times I felt like I should be taking notes. But it's also a solid, well-made piece of television with a great cast and some sex and intrigue thrown in for good measure. I'm completely hooked, to the extent that I'm looking forward to watching another episode once I'm done writing this. Most importantly, it's a pleasure seeing Kevin Spacey back in the limelight again. You get our vote every time, Kev.
☛ Read This Next: Five Things We Learned From The American Election