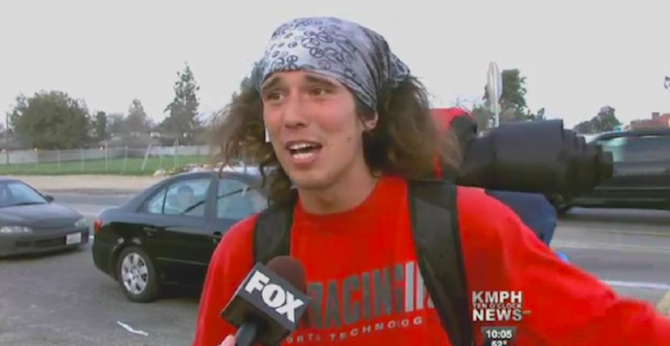 Wow. You may remember a couple of months ago that there was this really cool interview that was doing the rounds with this homeless drifter called Kai who spoke like he was California Man. It was about how he managed to stop some 300lb psychopath who was calling himself Jesus and trying to kill everyone by whacking him with a hatchet. It was far out man and deservedly went viral because it was awesome. If you missed that interview you can check it out here.
After that interview I never really thought that I would ever hear about Kai again. He just seemed like a drifter who did his shit, helped some people out, then hopped right onto the next train and headed to the next city, kinda like a modern day version of The Fugitive only without him looking for a guy with an artificial arm. I guess Burn Notice is the modern day version of The Fugitive but whatever the point is that this guy was a drifter, I doubted he would ever come back into the mainstream media again.
Well, it looks like I was completely wrong because he's back in the public eye in a big way after he got arrested for the alleged murder of a 73 year old lawyer named Joseph Galfy. Galfry was found beaten to death in his home in New Jersey on Monday and police issued a warrant for Kai's arrest the very same day. They stated that Galfry picked up Kai in Times Square and then they went back his home and had some kind of sexual encounter, after which Kai killed him. Weird.
Kai got picked up by cops at a Greyhound Bus station in Philadelphia so I'm guessing he'll get put on trial sometime soon so we'll find out the truth about this pretty soon. Or alternatively we may already know the truth as Kai allegedy posted this Facebook update on Tuesday – the day after Galfry was found – which takes the phrase 'Too Much Information' to the next level. I'm also confused as to how and why a homeless drifter has a Facebook profile and can update it so quickly, but I guess that's just how it is these days.
Seriously though, if you had just been raped and then murdered someone would you tell all of Facebook about it?!
☛ More Murder:
Murder, Bondage And Dildos – Barbie Is Sick 
Russian Man Murders Friend By Sticking His Foot Up His Butt 
Lady Killers – History's Most Notorious Female Murderers