They say that growing old together is one of the greatest gifts that life can give, but sometimes it doesn't work out like that for everyone involved.
Featured Image VIA
Case in point: this dude from Kansas city named Lawrence John Ripple. The 70-year-old man was so fed up of living with his wife that he decided to do whatever it took to get thrown in jail as he would prefer a cell to her company.
Naturally, the easiest way Ripple thought he could accomplish this was to rob a bank, and he set about the task by heading into the Bank Of Labor (sic) and handed the teller a note that said "I have a gun, give me money." After the teller complied, instead of making a swift getaway like most bank robbers, Ripple went and sat in the lobby of the bank. When the bank security guard approached him, he announced "I'm the man you're looking for." Case solved buddy.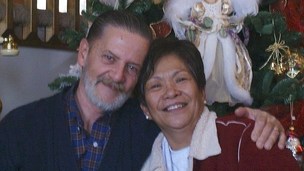 The security guard took the money off him and then held him until the police arrived, which wasn't long because the police HQ is on the same block. Something tells me that Ripple had that all worked out.
When asked just what the hell he was doing, Ripple explained that he and his wife argued all the time and he no longer wanted to be in that situation. He wrote the note in front of her and told him what he was going to do and she didn't care, so he went and did it.
Wow. What an absolutely awful story, but I suppose living with someone for 40 odd years (just a guess) might get tiresome eventually. You could just get a divorce or leave though rather than robbing a bank so you can to jail – seems a bit of an extreme solution. Especially if you know the fucked up things that can happen in jail.