If a tornado was anywhere near me, I think I'd be down in the basement shitting myself and hoping that my house above me wasn't destroyed when I finally crept out.
Featured Image VIA
However, some people just don't give a fuck or haven't seen 'Twister'. A guy called Theunis Wessells is one of them, as he decided to mow the lawn even though there was a massive tornado brewing behind him. Residing in Three Hills, Alberta, Canada but originally from South Africa, Theunis was surprised to see the twister but didn't want to let it put him off getting through his to-do list, which included mowing the lawn.
Whilst he was mowing the lawn his wife Claudia was taking a nap, but was awoken when their nine-year-old daughter started screaming about the hurricane and her father's refusal to come inside. Claudia took the snap to show her parents, but the casualness of Theunis' demeanour has sent the whole internet into hysterics.
Theunis said the following when the unbelievable photo went viral on the internet: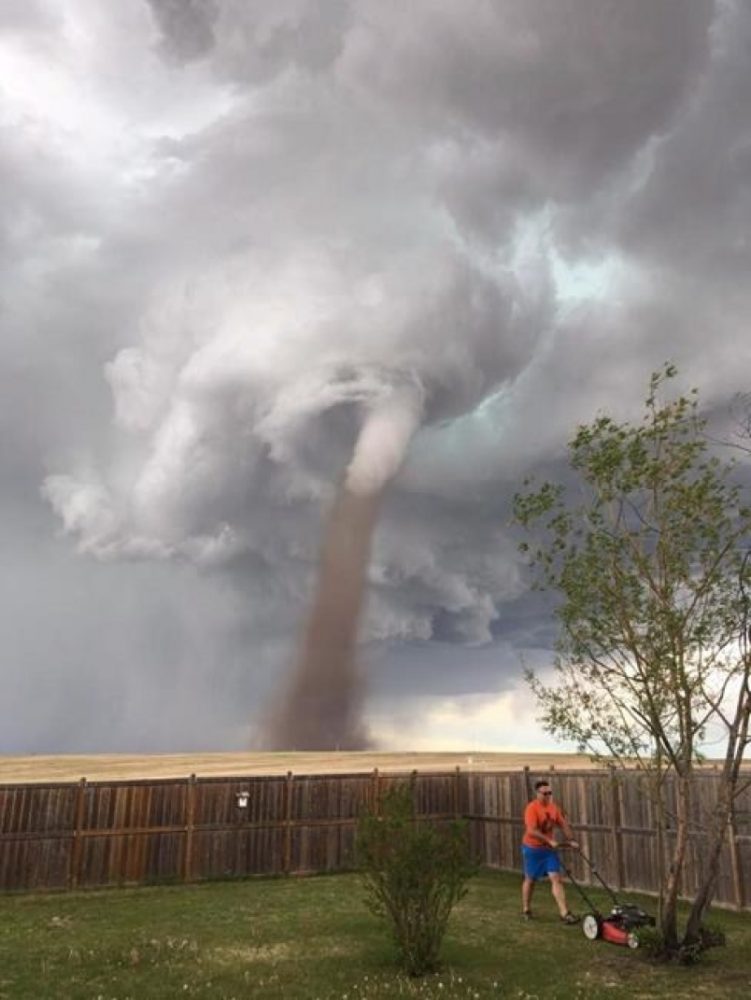 It looks much closer if you look in the photo, but it was really far away. Well, not really far, far away, but it was far away from us.

I was keeping an eye on it.
Lol. Sounds like it's all under control then. I mean if it had suddenly broken and came over to his house and destroyed it, then Theunis would surely have been able to do something to sort it out as he was keeping an eye on it. Phew. Next time there's a natural disaster we should probably call this guy as he sounds like he's got it all covered.
For more tornadoes, check out this footage of a monster one in Illinois. Wonder if Theunis would have been as cool with that one around.