England crashed out of the World Cup to Croatia last night thanks to an extra time goal from Mario Mandzukic and suddenly there's no longer a heat wave and the whole nation is down in the dumps. So it goes.
Images VIA
Whilst there's no denying that almost everyone in the country is turning up to work somewhat forlorn today, you've got to spare a moment for the guy that got 'England World Cup Winners 2018' tattooed on him. In fairness to the guy he got it done after the Panama game and it looked like he might have been on to one, but unfortunately it didn't work out and now he's left branded with a really stupid tattoo that makes no sense for the rest of his life.
However, he doesn't feel too bad about it and had the following to say about it: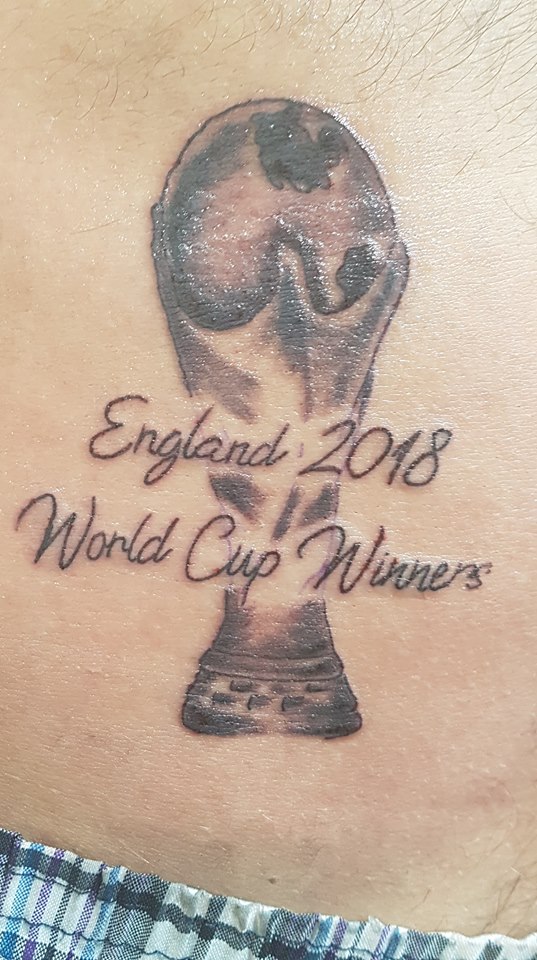 It's better to have believed and lost than to have never believed at all.

I have no regrets. I've woken up extremely proud to be English today.

All them boys will be coming home heroes. They've done the entire country extremely proud.

Gareth Southgate has been carrying this weight around with him since 1996 and now he can come home knowing he gave us something to believe in.
Yeah I suppose you've gotta think about it like that haven't you? Nobody gave us a chance before this tournament and we almost got to the final. Fair play to the boys. We'll probably just spend the rest of our lives thinking about what might have been though eh? So it goes.
For more dumb tattoos, check out this guy who got 'it's coming home' tattooed on his butt. It isn't.