Another day, another post about how it's coming home and the nation is currently going completely wild with the expectation that England might actually win a World Cup.
Images VIA
We've already featured a couple of stories about euphoric English fans getting completely dumb tattoos to commemorate their potential World Cup win and now it's the turn of 21 year old Zak Holman, who is currently partying in Ayia Napa and thought it would be a great idea to get 'it's coming home' tattooed on his ass to celebrate it. Great idea pal.
Here's what Zak had to say about his decision:
So we were in Ayia Napa last week and one of my friends said they'd pay for me to get it done. After winning our first game we all knew it was coming home so thought might as well.

So on our second night out we were absolutely smashed and got it done on our way back to the hotel. It only cost €25 so a bit of a bargain if you ask me!

My mate was shocked as they didn't actually believe me when I said I had got it done.

I've got no regrets whatsoever. I think it's quality!

f course England are going to win. We've got a very young team and Gareth Southgate seems to be doing a very good job with them.

If it don't come this year, we've always got the Euro's in two years time and another World Cup in four years and I'm sure the tattoo will still be there then.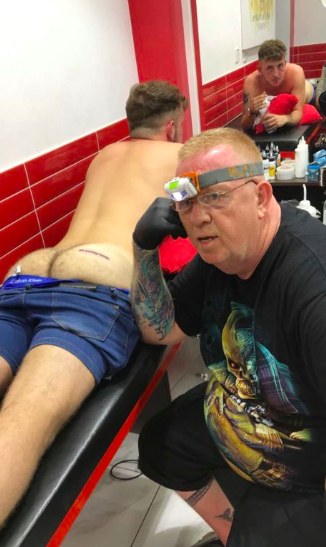 I mean I guess you've gotta admire his optimism, especially as it seems like he got it tattooed on him before we even got to the semi final. I suppose he can tell everyone in the country that he told them so next Sunday and he'll have the story to back it up. Hope he gets to prove everyone wrong.
For more of the same, check out this guy who already got England World Cup Winners tattooed on his leg to celebrate. Let's hope he's right too.