Yesterday we bought you news of a dude who had to be rushed to hospital in Magaluf after he collapsed from doing 75 shots of sambuca. What a fucking retard.
 Images VIA
It turns out that the guy in question was 18 year old Cameron Relf from Walsall. He had to go on a drip for eight hours but has been discharged now and has vowed that he'll be back on the piss tonight:
I took last night off to recover, but I'm going back out tonight and will probably be drinking pints and jagerbombs.

I'll stay off the Sambuca for a bit.

When my mum found out about the trip to hospital she was really worried about me but I don't think she knows how bad it was.

The hospital staff said I was incoherent and completely lacked bodily control when I was brought in after drinking so much.

I'm not usually sick through drink though and I didn't think about how much we had had.

I went out wanting to have a good night with the lads in the knowledge that whatever happens, happens.

I was out with the boys on a big one and started drinking the shots when one of my mates went back to the hotel room to get some more cash out.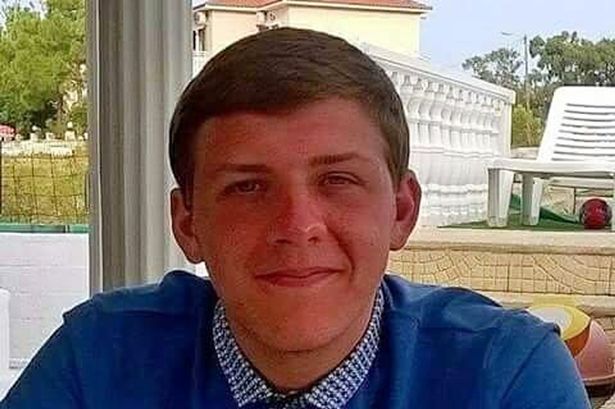 There were shot girls walking around the bar we were in and although other people bought a couple off of them, we couldn't say no and kept getting more.

I had about 75 shots in total of Sambuca and caramel vodka.

Some of the bar staff were cheering me on and we had made friends with some of the other British tourists out there too.

I tried to get back to the room, but had to be helped by the bar staff and other tourists – that's when I went to hospital.

When I woke up, the doctors were pretty short with me and only took my insurance details before sending me on my way.

We are here until Sunday and I plan on going out every night until then.

I want to make the most of the holiday and it's all a bit of fun really.
Well, he sounds like he's the definition of the word lad really doesn't he? 'I just couldn't stop doing shots', 'Whatever happens, happens', 'all a bit of fun really' – Cameron sounds like he's destined to grow up and work in Walsall's ASDA his entire life whilst living for the weekend and making that expensive trip into Birmingham to hit up Walkabout. I hope he enjoys the rest of his holiday and the rest of his shitty life getting cunted in shit bars and playing pool.
Chances are Cameron may even have been drunker than this Russian guy who couldn't even recognise his own reflection and thought it was a man blocking his path. Morons.