The grumpy cat shot to Internet superstardom earlier this year when she was uploaded onto Reddit and became the subject of thousands of memes, books and merchandise. She even managed to get her own Christmas movie commissioned, imaginatively entitled Grumpy Cat's Worst Christmas, which is probably going to smash box office records whenever it's released.
Unsurprisingly, with all this notoriety also came untold riches, and it's been estimated by Celebrity Net Worth that the grumpy cat is now worth around $100 million – making her richer than celebrities like Kim Kardashian, Russell Brand, Cameron Diaz and probably anyone else you can care to name from Hollywood too. And it's all because of her weird looking face which is the result of an underbite and dwarfism. I would definitely agree to being subjected to both of those conditions if it meant I was going to earn that much money.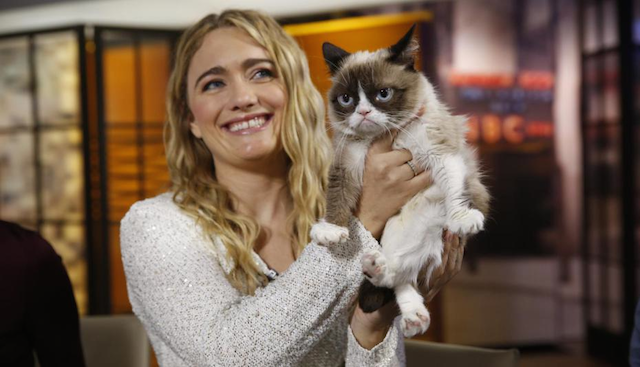 The cat's owner Tabatha Bundesen – who was able to quit her job as a waitress the first day the cat appeared on the internet – has rubbished these reports though and insisted that the cat isn't worth $100 million. However, she did reveal that she was pretty loaded because of her and wasn't complaining – I mean what's the difference between $80 million and $100 million anyway when you were working as a waitress previously? Some people get all the luck.
Personally though we think that Garfi – the world's angriest cat – is probably cooler than this one. We're hoping that he'll earn as much money as the grumpy cat because he definitely deserves it more and maybe he'll stop being so angry too if he does.