Lockdown restrictions are easing and with every passing day it seems like we're getting something back that was an essential part of our existence pre COVID-19 and when Thursday comes around it's going to be the nation's favourite past shop Greggs.
Featured Image VIA
The bakery monolith have announced that they'll be opening 800 stores on Thursday across the country with the other 1000 hoping to follow suit by the end of July. They'll all have floor markings, protective clothing for staff, screens at counters and a reduced menu to protect kitchen staff and adhere to social distancing.
Obviously that reduced menu might have a few of you worried, so here's what you'll be able to get your hands on:
See you soon, Greggs 🤤 pic.twitter.com/TGtQr8PuwO

— Evening Standard (@EveningStandard) June 16, 2020
Breakfast – sandwiches available in a roll or baguette:

Bacon

Sausage

Omelette

Bacon & Sausage

Bacon & Omelette

Porridge

Pain au chocolat

All butter croissant

Savouries:

Sausage Roll

Vegan Sausage Roll

Vegan Steak Bake

Steak Bake

Chicken Bake

Sausage, Bean & Cheese Melt

Cheese & Onion Bake

Bacon & Cheese Wrap

Three Cheese Pizza

Three Cheese & Pepperoni Pizza

Sandwiches:

Ham & Cheese Baguette

Tuna Crunch Baguette

Roast Chicken & Bacon Club Baguette

Roast Chicken Mayonnaise Baguette

Mature Cheddar Cheese Salad Baguette

Chicken Tandoori Baguette

Mexican Chicken Baguette

Honey Roast Ham Salad Baguette

Mature Cheddar Cheese Ploughman's Oval Bite

Chargrill Chicken Oval Bite Mexican Chicken Oval Bite

Sweet treats:

Novelty Biscuit

Gingerbread Man

Chocolate Chunk

Shortbreads Caramel

Shortbreads Milk

Chocolate Cookie

Triple Chocolate Cookie

White Chocolate Cookie

Jam Doughnut

Caramel Custard Doughnut

Sugar Strand Doughnut

Triple Chocolate Doughnut

Pink Jammie Doughnut

Yum Yums

Mini Yum Yums

Mini Gluten Free Brownies

Drinks & snacks:

Freshly ground coffee, tea, and hot chocolate

Full range of cold drinks

Selected crisps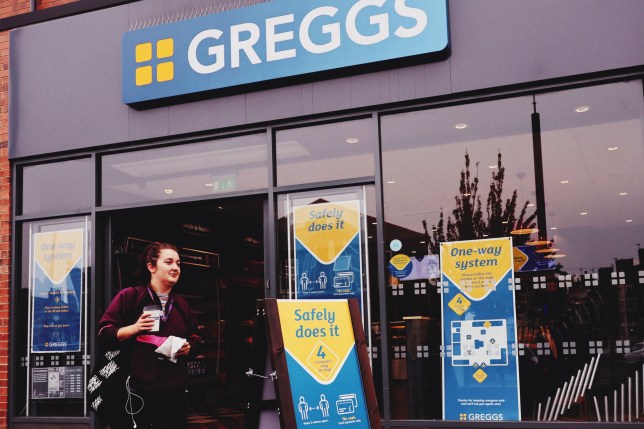 I mean I'm not really sure what they're missing off the menu there, but I suppose some Greggs stan out there can correct me. As long as they've got their sausage rolls and chicken bakes – and their vegan options of course – then I'm happy. Probably visit one on Thursday you know.
The video actually does make it look like they've done a hell of a lot to make sure that their customers are going to be safe as well, so you gotta respect that too. Props.
For more of the same, check out when someone created a Greggs pasty pizza. Mega.