Graffiti on a wall in Birmingham has caused a stir as it suggests that white people are not welcome in the area.
Images VIA
A local councillor has condemned the racist sign that says "no whites allowed after 8pm".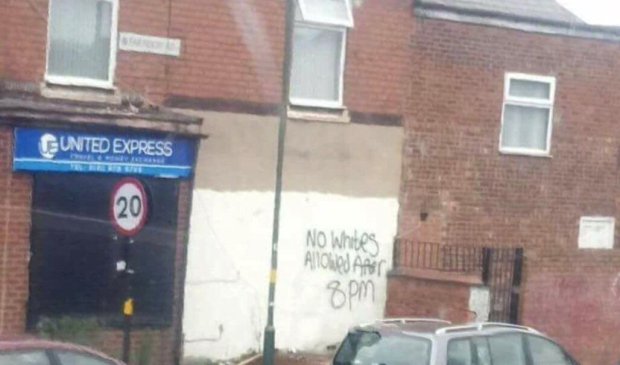 An image of the message went viral after popping up on Facebook page Brumz, but it has since been deleted. The original post said:
Apparently this was spotted in Alum Rock yesterday. This is Birmingham not South Africa. It don't matter if you're brown, black, white or f*****g green just no need for it – you always get one idiot regardless of their skin colour trying to cause divide for others.
After tracking the graffiti down, it appears that locals have attempted to cover over the word "whites":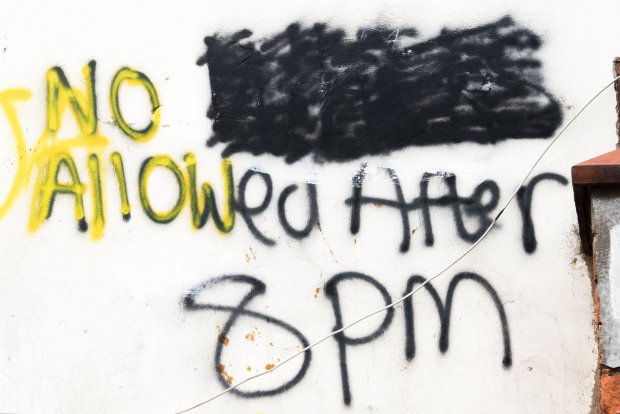 Labour councillor Ansar Ali Khan said similar graffiti had emerged in the form of lampposts in recent years, but said that this would not divide the community:
Whoever has done this needs to know that they do not have any support from the local community.

It is unacceptable to have such divisive signs in a diverse community like Washwood Heath which embraces people of all colour and walks of life.

We cannot allow people to get away with this. They are trying to foment trouble in our peaceful neighbourhoods.

The community here has strong bonds and together we need to remain vigilant and root out the racists amongst us.
Any message like this that incites division is not OK, but by the looks of things it has been rejected and criticised by locals in the area and is not representative of the city as a whole, which has a thriving and inclusive multicultural population.
For more stories of Birmingham rejecting discrimination, check out this one about a rapper who was banned from a Birmingham venue due to his homophobic lyrics.