Some car sales workers at a Mini showroom in Glasgow are properly in the shit after posing for a mock ISIS execution photo – not the smartest of moves.
Feature Image VIA
They're kneeling on the floor with their hands tied behind their back and a sack over their heads – mocking an ISIS style execution. It's done inside a Mini car dealership, and an advertising board for the company is behind them. Probably not the type of advertising that the company is after, really.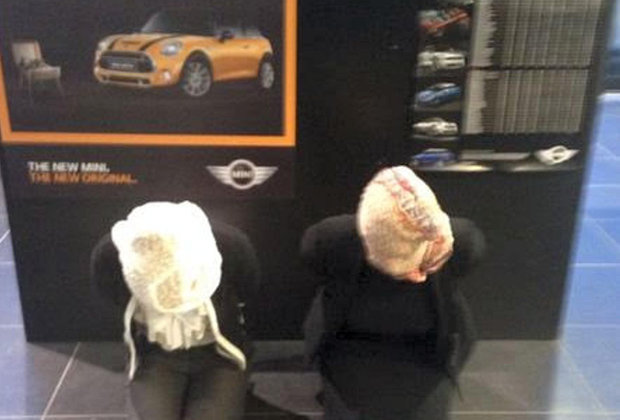 Image VIA
They've now been placed on suspension after the picture was sent to their boss, who didn't see a funny side to it. The photo ended up being shared on social media, too, which doesn't help their case.
Now mocking ISIS I don't really oppose to. Let's be honest, they can hardly complain with the fuckery they're upto. But it's the circumstances surrounding the photo that are prickish. In a WhatsApp group message containing workers from the Glasgow Mini car dealership, a photo was shared of a fella in Arabic clothes. A joke was made about him being one of the girls' 'Arabic Prince', then the photo was posted, with the comment saying he was there 'in connection with this'.
Come on. Don't be a bellend about these things.
Linking people to ISIS unnecessarily isn't funny. Not when you think that these are the people you are linking them with.
The two girls in the photo and a guy (I assume the cameraman) have been suspended further investigation.