In this time of Coronavirus stress, it's nice to be able to write a story about something that a celebrity has done that's really weird and not related to COVID-19 so I'm thankful that Gigi Hadid has decided to reveal one of the weirdest dietary habits that I've ever encountered.
Featured Image VIA
Hadid was being interviewed for Harper's Bazaar and was being asked questions by some of her best friends for it. No, not people she knew from her childhood or anything like that but people like Taylor Swift, Kendall Jenner and Serena Williams – you know, her best friends.
Anyway, one great nugget of information came from when Antoni Porowski – the food and wine expert on 'Queer Eye' apparently – asked her just how she created her favourite food of dipping fries into mashed potato. Gigi didn't even miss a beat on this one and immediately said the following:
(The only picture I could find of this was the one below from Disney World, where apparently they serve mashed potato on top of fries!?!?!)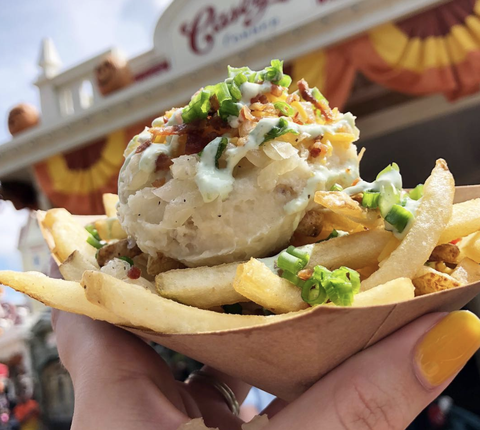 It was probably after a few passion fruit martinis at Le Chalet at L'Avenue at Saks, which makes my favourite mashed potatoes on the planet.

We must have run out of ketchup, so I dipped the fries in mashed potatoes—and eureka!
Lol somehow that's so relatable to your average person but also so UNrelatable at the same time. Takes a special type of person to be able to pull something like that off and I guess that person is Gigi.
Can't actually believe that someone who looks like Giga Hadid regularly goes around dipping fries into mashed potato though, even if it is some special kind of mashed potato from Saks that means it doesn't go around your belly. I guess portions at places like that are always really tiny, but even so I can't actually believe that this is her favourite food party because it's just really weird and partly because it's carb central and she looks as if she never indulges in that kind of shit. Behave.
For more of the same, check it out in Singapore where you can get mashed potato and gravy on tap. Weird.