There seems to be a trend going around these days of taking your favourite food items and making them as ridiculously big as possible, and you'll be pleased to hear that this trend isn't showing any signs of letting up for Christmas.
Images VIA 
That's because the latest oversize item that you can pick up is an absolutely humongous pig in blanket that will probably serves as your whole entire Christmas dinner. The stats on this one are absolutely ridiculous – it's wrapped in 16 metres of streaky bacon (that's three times the height of your average UK house), and then packed 45 pork sausages that are wrapped in two massive Cumberland sausages. It weighs in at 10kg. That's got to take some serious skills to assemble: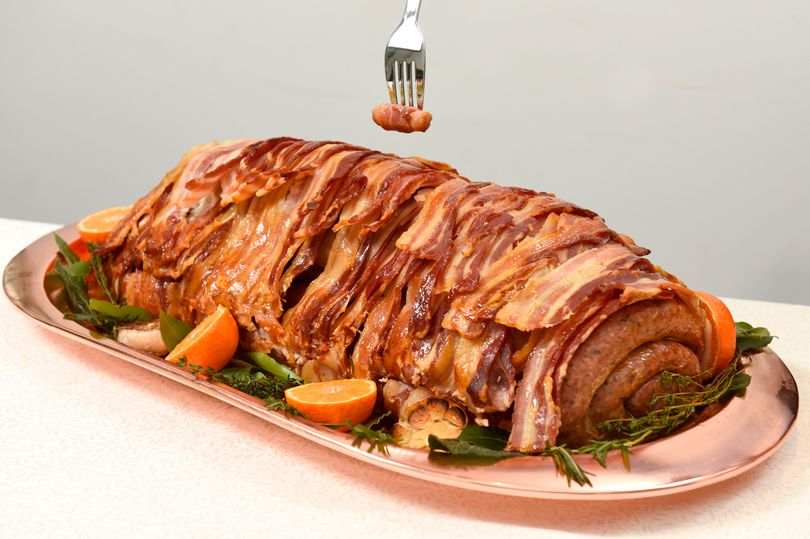 The only bad news about this is the price – it's gonna set you back a hefty £140. I suppose between about 20 of you though that's less than a tenner which isn't that bad. If you wanna get a smaller version too they are also on offer:  a 6-portion 3kg  pig in blanket costs £40 or a 12-portion 6kg pig in blanket costs £80. You can pick them up from Appetite Butchery in London.
In all honesty though you might as well splurge on the big one and then have pigs in blankets as leftovers for weeks. You know that makes sense – you might as well make the most of those delicious pigs in blankets.
For more of the same, check out pigs in blankets in a hot dog. Delicious.