If there's one thing that most people can probably agree on, it's that airplane food is normally completely rank and overpriced and there's not normally any point in even eating it unless you want to spend the rest of the journey supremely dissatisfied.
Featured Image VIA
It looks as if Jet2 are trying to change that though, by offering the nation's favourite meal on their flights. That's right – Nando's (is the nation's favourite meal) will be offered on the budget airline's journeys although it doesn't sound like you'll be chowing down on a quarter chicken or butterfly chicken breast any time soon because the reality is a little different. And probably nowhere as good to be honest.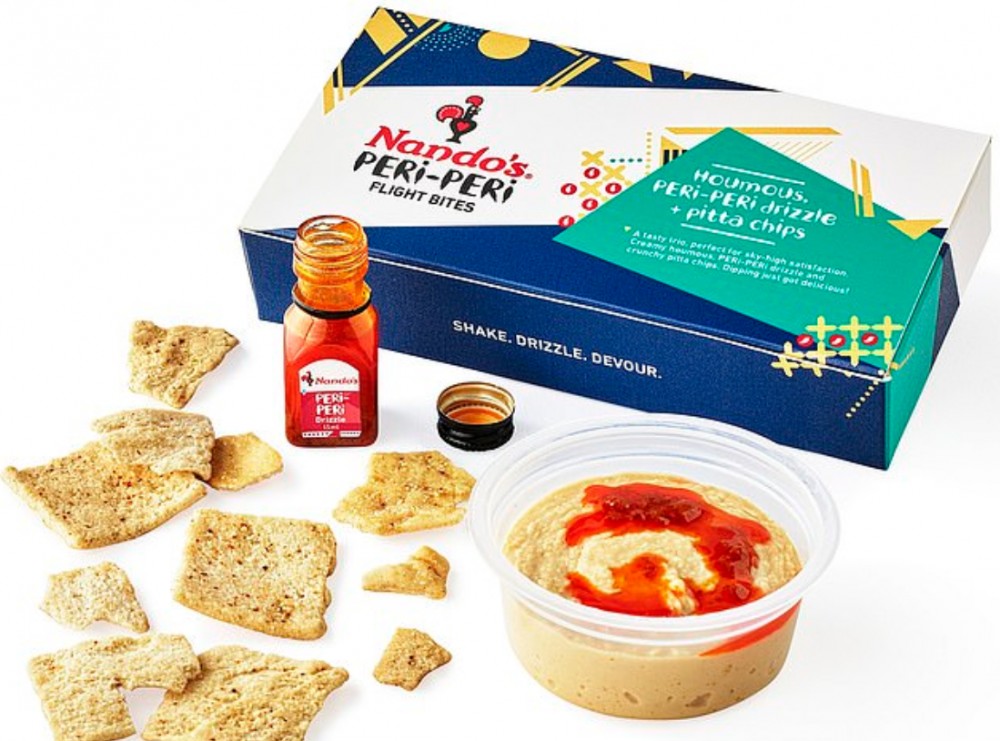 The first products is dip and dunk 'Nando's Box', which includes houmous, Peri-Peri drizzle and salted pita chips. OK that's OK but it's not really that great, but the second one is probably even worse: Nando's Half-popped Corn – 'a mild and delicious snacking option where fluffy popcorn meets crunchy corn'. Not really what I had in mind when I was hearing Nando's meals on a plane, but Steve Heapy – the CEO of Jet2.com and Jet2holiday – still reckons the announcement will delight customers:
The addition of these two fantastic snacking options give our customers even more great choice than ever, and mean that we are the first UK airline to offer Nando's products on our in-flight menu.

We have already made a number of exciting changes to our menu this year, and we are sure this brand new menu will delight customers even more.

We pride ourselves on delivering the very best customer service in every area, which was recognised at the recent TripAdvisor Travellers' Choice awards for airlines where we won five awards, and we can't wait for our customers to try the exciting choice on this new menu.
I mean being serious if anyone loves that announcement then they've gotta be a complete and utter gimp or be way too in love with the Nando's brand and probably a combination of both of them to be honest. It would be kinda cool to get Nando's chicken on planes and maybe kickstart some kinda street food/food truck/hipster revolution in plane food, these crappy Nando's boxes are just another metaphor for the awful plane food I was mentioning earlier. Disappointing.
On top of that, I've never even heard of Jet2 so I don't even know if I'll be able to fly anywhere I even wanna go with their dumb little menu. I suppose I have at least heard of their airline now though so there is that.
For more Nando's, remember when they admitted that they used McCain oven chips? Low point.