If there's a few things we know that Geordies love, then it's Newcastle Brown Ale and Greggs', so it's no real surprise that one of them has finally proposed to their love of their life with a Greggs Festive Bake.
Featured Image VIA 
Tony Brown said that it was because he was feeling hungry and nervous beforehand, but I like to think that it was because it was just so fitting and bizarrely beautiful for the people involved. He got down on one knee in front of the Fenwick's window in Newcastle to ask the love of his life and mother of his two children Rebecca to marry him with the Festive Bake in hand – the two then headed to Greggs for some more food to celebrate after she said yes.
Here's what Tony had to say about the experience: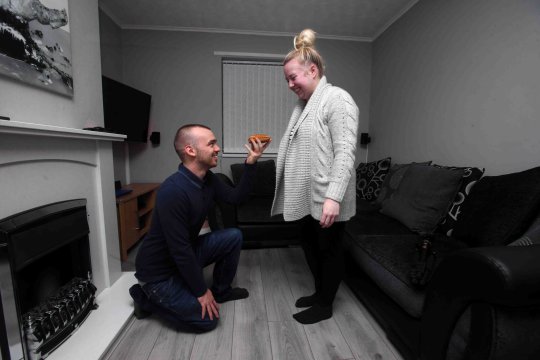 I was hyper and I was starving, and when I turned around there it was – Greggs.

I had been so nervous before hand down – hands down it was the most nerve wracking thing I've done.

We have two kids (Daizy and Molly) and compared to this, labour was an absolute breeze.

My advice to anyone looking to propose is to just go for it – go with your gut and don't rush it.

You do it once, so do it right.
And yes Tony, you did it so right that you're now a viral sensation so fair play to you. If Greggs knows what's good for them then they'll probably offer to cater your wedding for free because that would be another absolute smasher of a marketing campaign for them. Just an idea.
For more Greggs, did you know you can now get them delivered to your door? Best news ever.