Remember back in the day when nobody had smartphones and you would head out with your family and friends for a meal and everyone would actually talk to each other and not just spend all the time staring at their screens?
Images VIA 
It seems like a long time ago but everyone's favourite pre cinema destination Frankie & Benny's is trying to bring that sense of wonder back by introducing mobile phone free tables at all of their establishment – unbelievably there are still 250 of these in the country! Frankie & Benny's own research determined that 72% of children wished that their parents would spend less time on their phones, which is why they've decided to introduce this initiative.
A spokesperson said the following:
We looked at various ways we could encourage people to engage more at the dinner table, and we've found giving families the chance to part with their devices for a mere couple of hours is a great way to bring them closer and embrace family time.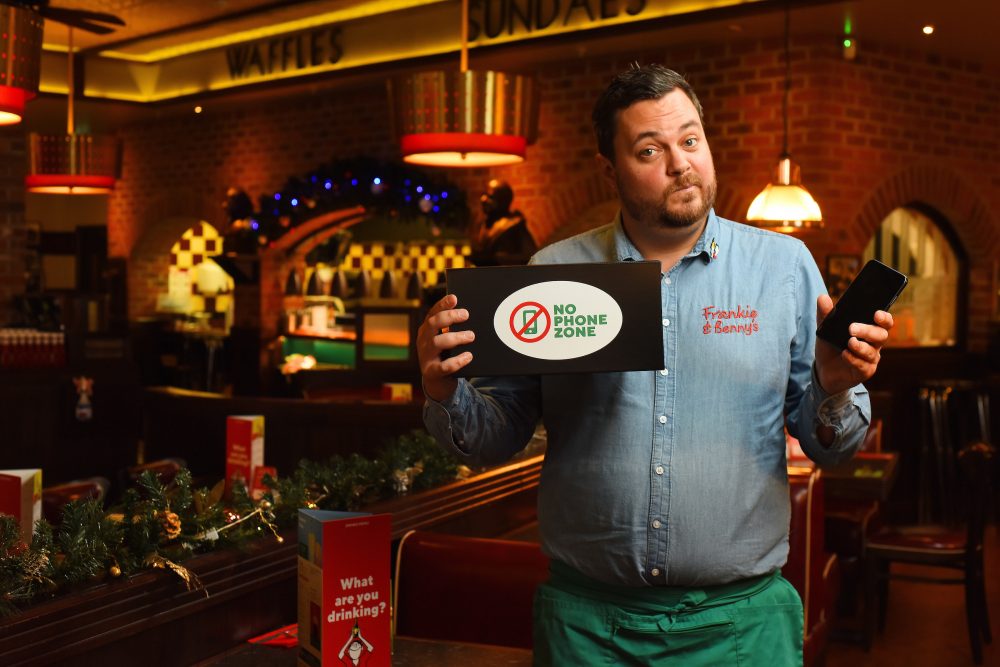 I mean yeah it is true, although it could probably be applied to just any group of friends out for a meal too. Although I suppose nobody over the age of 17 really ever goes to Frankie & Benny's unless they're with their children so fair.
Anyway, if you're wondering how it works then you'll be required to deposit your phone in the box kindly modelled by some Frankie & Benny's waiter above when you arrive at your table, then you'll be able to get it out at the end. Simple.
The scheme is being trialled in every Frankie & Benny's in the country from tomorrow for a week and if it's successful – I think it probably will be – then they'll be making it permanent in the new year. Hopefully more restaurants follow their example too, for everyone's sake.
For more mobile phones, check out the world's most expensive phone. A  cool $15 million.