I don't think anyone over in this country has ever really paid attention to a vice presidential debate over in the United States before but this year is gonna be a bit different after a truly bizarre incident where a fly landed on vice president Mike Pence's head during it and stayed there for two whole minutes before it buzzed off.
Featured Image VIA
Naturally the fly immediately went viral and everyone on Twitter and other forms of social media waded in with some truly funny jokes for once. Even LeBron James decided to get in on the action:
Imagine Mike Pence going on Twitter after the debate to see what people thought of his ideas only to see over half a million tweets about the fly on his head instead lmaoooooo pic.twitter.com/jM8QWhTc0c

— Aero @ Future Connected! (@ActualAero) October 8, 2020
Pretty fly on a white guy pic.twitter.com/w0S1vDmAte

— Pence's Fly (@MichaelsFly) October 8, 2020
That was awful.

— Mike Pence's Fly 🏳️‍🌈 (@MikePenceFly___) October 8, 2020
I'm self-quarantining now.
– the fly

— ken olin (@kenolin1) October 8, 2020
I hope SNL gets Jeff Goldblum to play the fly on Pence's head.

— Ronda 💜🌊🌈 I see a blue light on the horizon 💙 (@Rondaline68) October 8, 2020
Somebody get that damn fly a covid test stat!!

— Super Duper Fly (@DaveBautista) October 8, 2020
the snl writer's room when the fly landed on pence's head pic.twitter.com/UD5liN25yW

— leigh 🍁 (@sincereleigh_me) October 8, 2020
Everyone, please send me your thoughts and prayers. pic.twitter.com/vfHBwHd9J1

— Pence's Fly (@MichaelsFly) October 8, 2020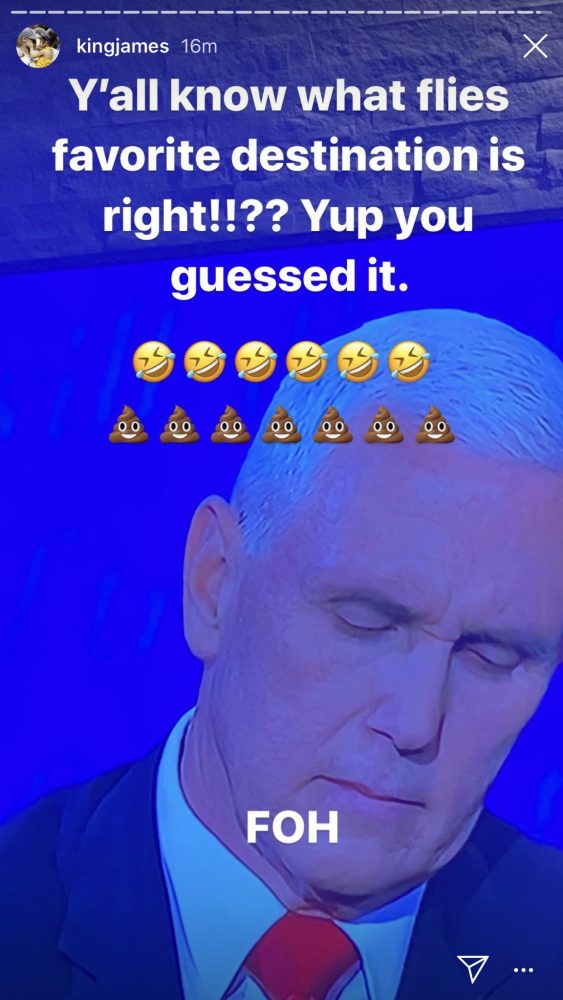 Lol. Another big part of the debate was that Mike Pence seemingly had pink eye which has previously been recognised as a symptom of Coronavirus. Wonder how he managed to get that?
As for the actual debate, I don't think anything happened that was really that interesting and I doubt that it's going to affect the outcome of the election. The only reason anyone will ever remember it or that it's even been mentioned is because of that dumb fly and that's OK with me.
For more of the same, check out when the BBC used footage of LeBron James when reporting about Kobe Bryant's death. Awful.