I haven't seen 'Little Women', the movie for which Florence Pugh has received a Best Supporting Actress nomination at this year's Oscars, but by all accounts it's a really good film.
Featured Image VIA
Upon discovering she was nominated for the Oscar, 24-year-old Florence celebrated the good news the way any modern celebrity worth their salt should – with a couple pictures of herself naked in bed: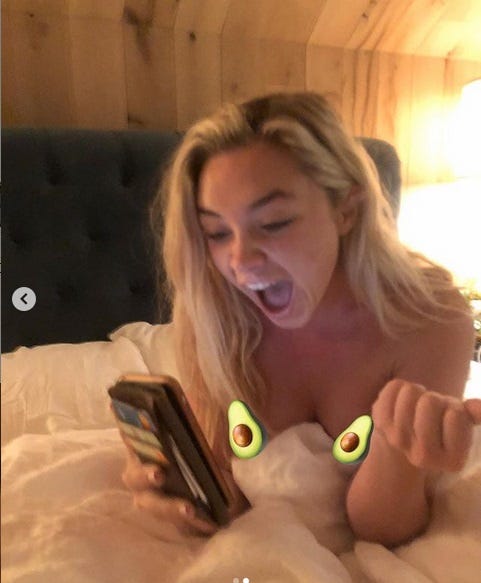 And that's how you let Hollywood know that you've truly arrived – not by merely being nominated for an Oscar, but by posing naked in bed and having your buddy take photos of you to share on Instagram with avocado emojis over your tits. It's a throwback to a bygone era of Hollywood where it was all about the unapologetic idea that sex sells.
Definitely the sort of thing we could be seeing more of from the likes of Charlize Theron and Jennifer Lawrence if Hollywood hadn't started getting all high & mighty and treating boobs & butts like they are a crime. Keep doing your thing, Florence!
For Adam Sandler's threat to make the 'worst movie ever' after his film 'Uncut Gems' was snubbed from this year's Oscars, click HERE.