If there was ever an internet fight video to teach you to never give up, this is it.
Featured Image VIA
No clue why the fight is occurring in the first place but watch as the big man lets his two opponents wail on him until they're completely knackered, and then proceed to completely obliterate them. It ain't over till it's over:
Can everybody watch this and see how da Tables turned 😂 aye Big dude can take a punch he just waited his turn 😂 pic.twitter.com/Pg7JLdcJrR

— To Artina🤫 (@Dat_Dude_Graham) December 6, 2019
Love it. What a comeback! They couldn't believe the big fella didn't tap out or beg for mercy after all those punches they gave him. "You know what time it is, right?" will now go down as one of the most legendary and terrifying things you can say to a person before whooping their butt.
The best bit is how one of the men tries to make peace at the end: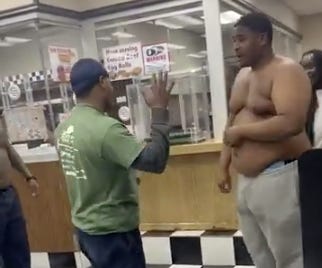 Nope, not happening. Usually I'd be all for the handshake but I'm glad on this occasion he just cracked him in the face instead. Exactly what he deserved. 
To watch a one-on-one fight in Texas turn into an insane 4-on-4 brawl, click HERE. The cameraman even filmed it in 4K.