Image VIA
In somewhat unbelievable news, Italy's World Cup winning captain Fabio Cannavaro has been handed a ten month jail sentence for swimming in his own swimming pool.
Yeah, you read that right but there is a good reason for that. Kinda. Despite the fact that his achievements almost single handedly gave Italians something to smile about in 2006 when all their major football teams were part of a massive match fixing scandal and the economy was going down the toilet, the Italian government aren't happy with his taxes and he's been under investigation over them for the past year or so. As part of this investigation, Cannavaro's family home was seized and he was banned from visiting it as part of one million Euros worth of his assets that were confiscated.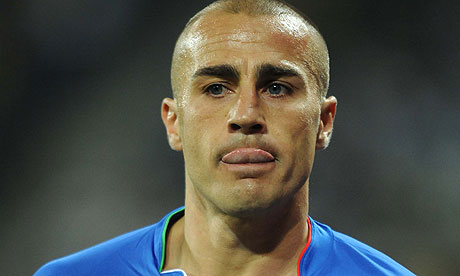 Image VIA 
So in reality, it's pretty dumb that both he, his brother Paolo and wife Daniela Arenoso decided to head up there to take a dip in the pool a couple of weeks ago.  I mean he could have gone to any other pool in the world, like this pool party full of dogs or the biggest swimming pool in the world for example. But no, he decided to break the law and go to his. Too bad he got busted –  they probably didn't all expect to get ten month jail sentences because of it.
That's exactly what they did get though, although none of them are actually in jail at this point. They're all appealing against the sentences – which have been suspended – and hoping that they won't get thrown in the slammer. Given Cannavaro's status in the country it seems unlikely that they will go to jail, but they'll probably confiscate some more of his stuff or do something else ridiculous to mess him around. You think they might be grateful he won them the freakin' World Cup eh?