One of Europe's 'most violent neo-Nazis' who fled to the UK after a brutal robbery in Denmark has been confirmed to have taken his own life while on the run.
Feature Image VIA
Morten Baldur Karrebæk Pust was wanted in connection with the brutal robbery of a 25-year-old woman, who was beaten over the head with an axe handle, and had her mouth taped up during a home invasion led by Pust.
Pust fled to the UK as he was hunted by detectives over his involvement in the attack near Copenhagen on January 1, 2020.
Who the hell commits a savage robbery on New Year's Day? This guy, apparently.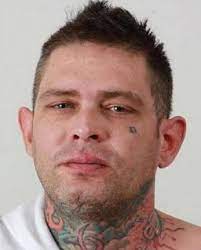 Pust was said to be one of a gang who stormed the home, pushing the terrified woman into her apartment when she answered the doorbell. One man held her and tied duct tape to her mouth, while another walked around her home. Two men, aged 34 and 21, were jailed for their part in the robbery as appeals were put out to track down Pust.
As reported by the Liverpool Echo, Pust had fled to Anfield, Liverpool, where he killed himself at an address on Breck Road in September last year.
Since the incident, Danish media widely reported on Pust's background, including an upbringing steeped in violence and criminality.
He was said to have deliberately attacked an 11-year-old boy of another ethnicity, while left-wing research group Redox described him as 'one of Denmark's most violent Nazis'.
After news of his death spread in Denmark, some fans of the football team Brondby managed to sneak a banner into the empty stadium, which stated: 'Rest in peace Baldur.'
Papers at the coroner's court listed Pust as a tattoo artist, with further reports claiming he earned a living in Hell's Angels-owned tattoo parlours. He was also part of the small Nazi skinhead scene in Copenhagen, and is said to have been a lead singer in Denmark's first Nazi band, Chamber 88.
Well it's not like Pust's death is a great loss to humanity, though I'm sure it's tough for his friends and family. Our thoughts though are with his victims and those he terorrised throughout his life. No doubt they'll be relieved to hear the news of his demise. Good riddance.
To watch an Australian white supremacist brutally assault a black security guard outside a television studio, click HERE.