Unless you haven't been on the Internet or near a TV today (is that actually possible in the modern age?) then you've probably seen that a number of top ranking FIFA officials – unfortunately not including Sepp Blatter yet – have been arrested in a Swiss hotel and face being indicted to Miami to face trial over corruption charges that go back as far as 20 years.
Of course, anyone who knows anything about football suspected (knew) that FIFA was probably the most corrupt organisation in the world (there's a great book called Foul! by Andrew Jackson on this subject which we've written about here and here in the past) so this isn't actually that much of a surprise – it's more of a surprise perhaps that someone has finally done something about it though. In fairness this does look like a massive, massive operation so they've probably been working on it for years, it just obviously looked to us from the outside that nobody was doing anything. Can't wait for the book/movie to find out what was really going down behind the scenes.
In any case, one of the absolutely awesome knock on effects from all of this going down is that there is actually a very real possibility that England may host the World Cup in 2018 because of it. Or at least that's what people are saying. Remember how gutted you were when Russia won it all those years ago? It could all change and you could be heading to Ivory Coast V South Korea at the Stadium of Light in four years if it all works out.
Featured Image VIA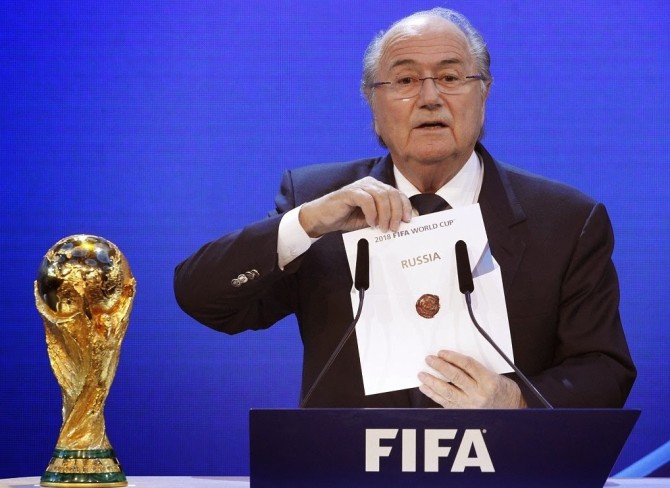 Image VIA 
The reason for this is that obviously everyone thought the fact that the World Cup was awarded to Russia and Qatar was because of loads of backhanded payoffs because why else would two horribly unsuitable countries be awarded it? Made no sense.
So, in addition to all the arrests today, Swiss officials also seized electronic data from FIFA's headquarters in Zurich and criminal proceedings have been opened "on suspicion of criminal mismanagement and of money laundering in connection with the allocation of the 2018 and 2022 football World Cups". It seems inevitable that some evidence of wrongdoing during these World Cup bidding campaigns will be uncovered through the course of this investigation and as such Russia and Qatar might see themselves stripped of the right to hold the tournaments.
This is where England come in. We were one of the contenders to hold it in 2018 and with such short notice to begin preparations for hosting it – even if it was announced today it's still pretty short notice and who knows how long this process could go on for? – we have the infrastructure to hold the tournament successfully and would also be more than willing, ready and able to host it. As such PaddyPower have installed us as 11/10 favourites ahead of a joint Spain and Portugal tournament. We're less likely to be considered for 2022 should Qatar lose it then, with the U.S. and Australia more likely to be awarded it.
FIFA's director of communications Walter de Gregorio is still stating that 'the World Cups in 2018 and 2022 will be played in Russia and Qatar' but there is a more than realistic chance that they might be forced to bow to pressure now considering they're absolutely royally fucked. Of course, no country has ever been stripped of a World Cup and it's likely that both Russia and Qatar would strenuously fight any attempt to take such action, but given the details that might emerge of their activities in the run up to the award, there could be real reason to take the World Cup away from them. Here's hoping – there was no precedent to the the Italian corruption scandal of 2006 and look what happened there.