Meet Brandon Blake from County Kildare in Ireland, who is way tougher and ripped than you'll probably ever be, and to make matters worse he's only eight years old. Wow. He hasn't achieved his body through hitting the gym and pumping weights like most of us will have tried though – it's solely come about through his passion for gymnastics.
People have been going crazy about him since renowned fitness guru Frank Medrano posted a picture of him (which you can see below) on his Instagram account, although some have been critical of Blake's parents, saying that eight year olds shouldn't look like this and shouldn't be taking part in extreme training that leads to their bodies developing in this way.
Brandon's Dad Mark is adamant that he's never let Brandon touch weights though and his body simply looks this way through a hell of a lot of gymnastics, core training and a healthy diet: 'He's developed (his shape) over the past year — it is crazy looking at him. Brandon is happy and healthy and his core strength is amazing, he is an inspiration. Brandon has a healthy diet consisting of cereal in the morning, fruit throughout the day and meat and two veg in the evening.'
Mark commented that Brandon also was a practitioner of calisthetics – resistance training that only uses the body's natural resistance and mainly focuses on exercises like push ups, sit ups and pull ups. It's his dream to represent Ireland in the Olympics and if he looks like that when he's eight then I doubt it will be too hard for him to succeed in that – he'll probably be competing in Rio 2016 with this kind of dedication.
Now that you've read this and know Brandon's secret, you should probably change your diet and start practicing calisthetics. If an eight year old kid can look like that then there's no reason why you can't. Go for it.
☛ More Body Builders: Amazing Pictures Of 70 Year Old Bodybuilder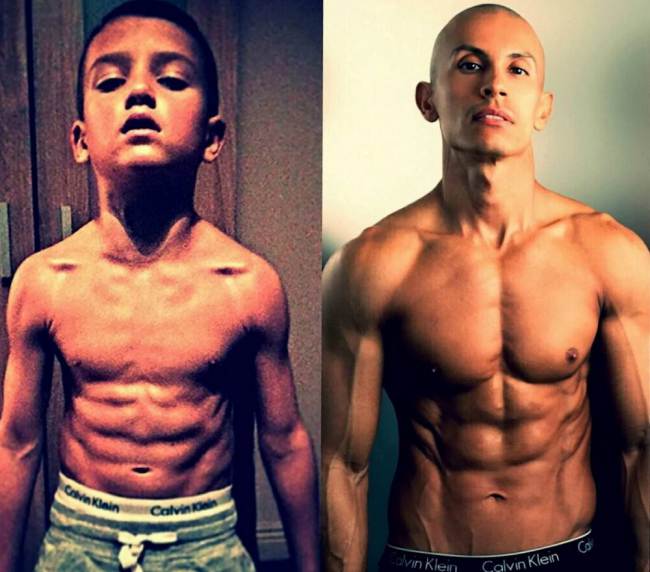 ☛ More Bodybuilding: 19 Year Old World Shot Put Champion's Insane Workout Routine