The WWE locker room is a notoriously ruthless place, where newcomers to the company are known to get bullied and abused by the veterans and punished if they do something as innocuous as forgetting to shake The Undertaker's hand or something.
Featured Image VIA
Well more stories have surfaced this week via former WWE Diva Amy Weber, who was with the company very briefly from 2004 – 2005. The reason she didn't last very long? Because she hated going into work and dealing with the 'frat-house like' environment, and especially Edge & Randy Orton who kept on picking on her.
Speaking on her YouTube channel about one incident, Amy said:
The trainer told me to go into the men's locker room and to grab two Ibuprofen, which I did.

He told me what to do, I did it. And some ice. So when I was on the plane, on the way back to Alaska, we had more matches there, more TV to tape, I was laying across three seats.

We were all sleeping, and I'm going to go ahead and call people out because this is a truthful video.

Randy Orton decided to come up behind my chair and he slammed into it like a linebacker, so hard that I landed on the floor of the airplane.

And then he said to me, "You're gonna learn, [b***h]." I didn't understand what he was talking about. So I turned around, went back to sleep.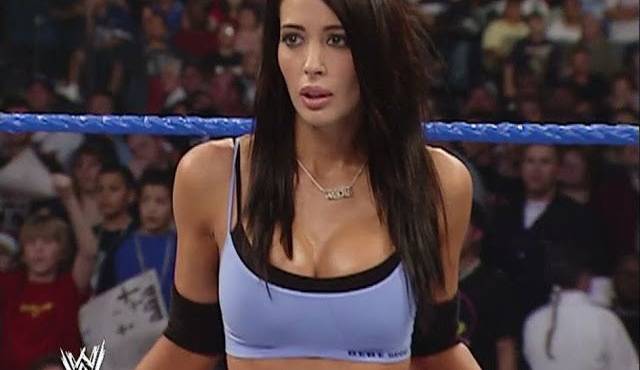 On that same flight, Edge poured on a drink on her face:
I was awoken by someone pouring a drink in my face. So immediately I popped up, I looked up, and I saw Edge, yes, you, Edge, with a partially drank drink in his hand, there was a little bit left, and it was the same colour that was basically all over me.

Of course he denied it, but the drink was in his hand. So I said, "Come on, you want to fight me? Let's go, you want to be a man, go ahead, let's go, fight me. You want to pour a drink on me?"

And he kept denying it, but I know he did it, I saw the cup in his hand.
Amy insists the incidents arose from her taking Ibuprofen and ice from the men's locker room, so it sounds like her trainer set her up for a hazing there:
I just felt like I couldn't continue to be in an environment where people really had no respect for me. They had their reasons but I don't think taking two Ibuprofen for someone to call you names, try to physically harm you, and then pour a drink in your face.
Poor form from Orton & Edge there, but I guess they were both younger and dumber in 04 – 05. I really can't imagine Edge doing something like that now, although Randy Orton does come off like someone born to be an asshole. The pair of them were an awesome tag team at the time – Rated RKO – and most recently battered each other in an empty warehouse for Wrestlemania. As for Amy Weber, she's done a few things for TV, film and theatre, where I'm sure she's being treated with at least some modicum of respect.
For the time Randy Orton was accused of pulling his dick out and sexually harrassing WWE writers, click HERE.