Six former eBay executives and employees are facing charges after they led a cyberstalking campaign against a couple they believed was critical of the company in an online e-commerce newsletter.
Featured Image VIA
U.S. Attorney Andrew Lelling said the eBay employees' harassment involved sending the couple "disturbing deliveries" that included a bloody pig mask, a box of live cockroaches, and a funeral wreath. Plus lots more detailed below. The employees also allegedly sent threatening messages and traveled to Massachusetts to conduct "covert surveillance" of the victims. Proper eBay mafia style shit!
Lelling told CBS Boston:
It was a determined, systematic effort of senior employees of a major company to destroy the lives of a couple in Natick, all because they published content company executives didn't like
Shockingly, eBay's former director of safety and security James Baugh and former eBay director of global resiliency David Harville were among the six charged this week.
Also charged were Stephanie Popp (senior manager of global intelligence), Stephanie Stockwell (manager of global intelligence center) Veronica Zeak (intelligence analyst) and Brian Gilbert (senior manager of special operations for eBay's global security team). Each is charged with conspiracy to commit cyberstalking and conspiracy to tamper with witnesses.
According to Lelling, two of those charged had sent or forwarded text messages saying it was time to "take down" the newsletter's editor. One of the messages said the group wanted to "crush this lady," referring to the editor.
The couple then received those freaky surprise packages:
These deliveries included fly larvae and live spiders, a box of live cockroaches, a sympathy wreath on the occasion of the death of a loved one, a book of advice on how to survive the death of a spouse, pornography mailed to their next door neighbors but in the couple's names, Halloween masks featuring the face of the bloody pig, and the pig fetus which was ordered, but after an inquiry by the supplier, thankfully, wasn't ever sent.
The eBay employees also allegedly posted a classified ad on Craigslist claiming to be from the Natick couple inviting "singles, couples and swingers" to their house to party after 10 p.m. every night.
People were encouraged to knock on the couple's door, anytime day or night.
All of the employees were fired by eBay following an investigation. Lelling made clear the company cooperated with investigators.
For a while they succeeded, psychologically devastating these victims for weeks. The result as alleged in the complaint was a systematic campaign fueled by the resources of a Fortune 500 company to emotionally and psychologically terrorize this middle-aged couple in Natick, with the goal of deterring them from writing bad things online about eBay.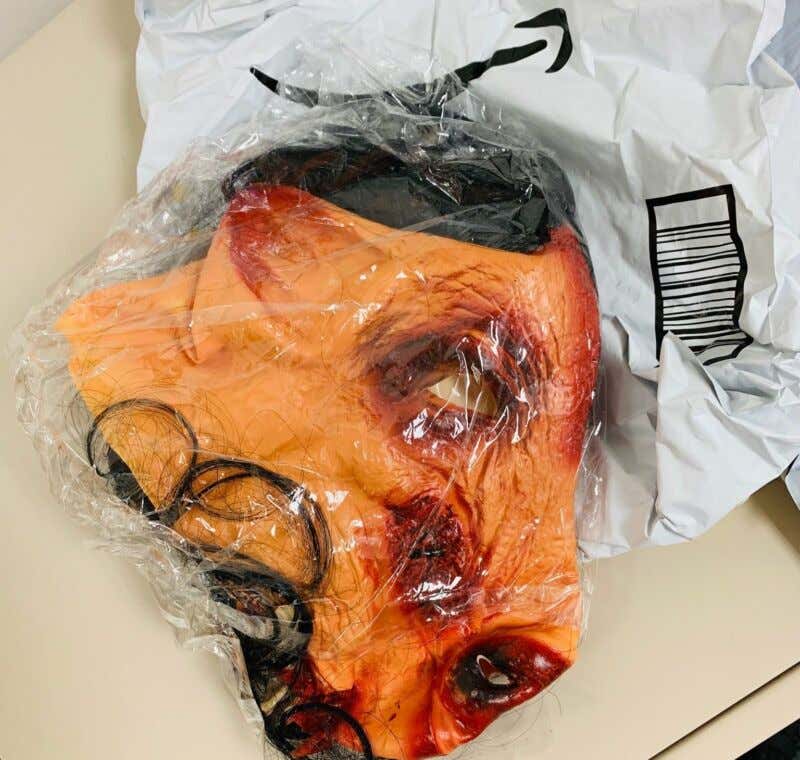 Wild stuff. I can't believe these eBay employees went to all this effort to devastate the lives of a middle-aged couple just because they wrote some negative things about eBay in some obscure newsletter they run. Talk about taking pride in the company you work for! Imagine going to such fucked up lengths to defend a gigantic corporation like eBay as though this couple's newsletter comments had any financial affect on them whatsoever?
It's crazy enough that they sent this couple a bloody pig mask, live cockroaches, spiders, sympathy wreaths and all the rest of it, but to actually fly to the couple's city to conduct "covert surveillance" on them? Just terrifyingly bizarre and weird.
Oh well, I'll bet there's a nice multi-million dollar settlement coming for the couple. All's well that ends well?
For the Worcestershire Pig Man who's been going around terrorising children in a creepy pig mask, click HERE. Wonder if he bought that off eBay?