A booze-loving duck named Star, who has become a local celebrity for downing pints at the pub, has been injured during a bar brawl with a dog.
Images VIA 
And no, this is not fake news – Star is real. In addition to his beer-fuelled antics, he is also known for wearing his favourite bow tie and he is often seen at local inns with his handler, Barry Hayman.
However, Star's drinking days could soon be over after he was caught in a fight with a dog called Meggie while returning from his favourite pub The Old Courthouse Inn.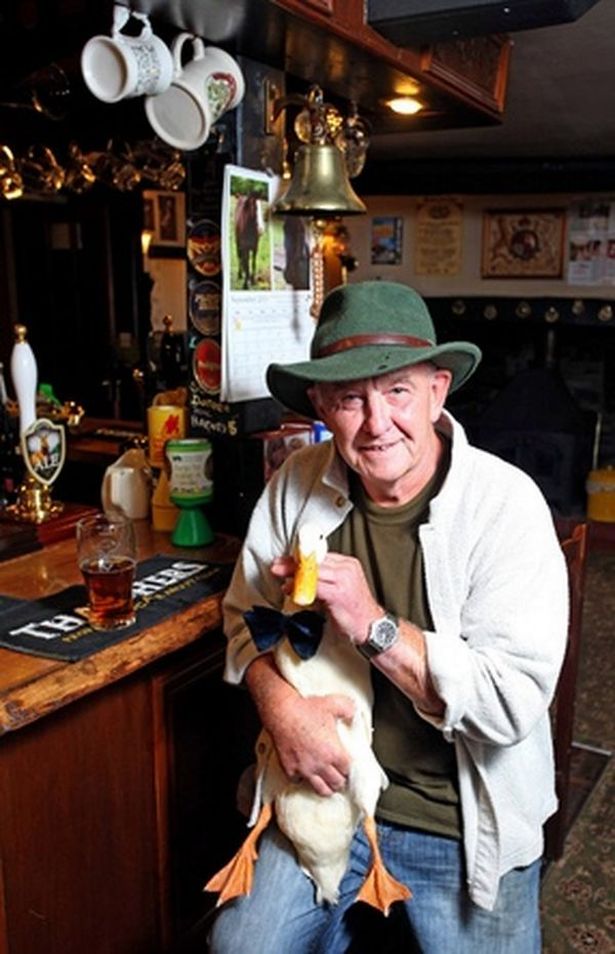 The pair had a Mexican stand-off before the dog launched at Star, leaving him with his bottom beak split down the middle. Barry, who is also owner to the dog, has said that he has grown tired of Star's drunken antics and that this time he, "pushed his luck too far."
Star was rushed to the vet after the fight and put on painkillers. Although he might be in trouble, but that doesn't mean that Barry isn't looking after him and he is praying that his beloved duck will make a full recovery. Here's what he had to say:
Star pushed his luck too far and Meggie snapped – splitting Star's bottom beak right down the middle.

He gave her a stare, then promptly stood on her back. It was not pretty and not nice. We were so scared we would lose Star.

He had to be rushed to the vets and go under anaesthetic, which is always risky and could go either way with ducks and other small animals.

Thankfully our Star is a tough cookie and it looks like he came out okay, not sure we came out quite as well.

We had hours and hours of stress and waiting around. The vets are really pleased with his progress. He seems to be bouncing back nicely which is good.
I'm glad to hear that Star is on the mend. Maybe he should lay off the booze for a bit, just while he gets his head straight. Because we all know that getting wasted and starting fights is not all it's quacked up to be… I'm so sorry.
To read about a gang of aggy seagulls that held a woman hostage for three days, click HERE. You can't make this shit up.