A karaoke singer determined to raise his neighbours' spirits by performing on his driveway during lockdown has been left devastated after receiving a noise complaint.
Featured Image VIA
Ted Towsnend, 51, who performs and DJs as Big Ted's Big Karaoke, had taken to putting on performances outside his home in Clacton after the UK was put in lockdown in March. He thought everyone really loved and appreciated his efforts, so was shocked when Tendring Council got in touch.
The council told Ted that a complaint was made about 'excessively loud music' coming from his driveway. He's now reluctant to carry on his live shows in case other complaints are sent in and he gets in trouble.
Ted, who also performs 'You'll Never Walk Alone' every Thursday during Clap for Carers, told the Clacton Gazette how 'shocked and very sad' he feels about the noise complaint:
All I've been trying to do is raise spirits and boost morale during the lockdown, as well as give people a bit of entertainment.

Performing also helps me too, because I am very much a people person and love to entertain. I don't want to just sit here all day looking at the same four walls.
Ted has now stopped performing outside altogether, which he describes as 'really upsetting him'.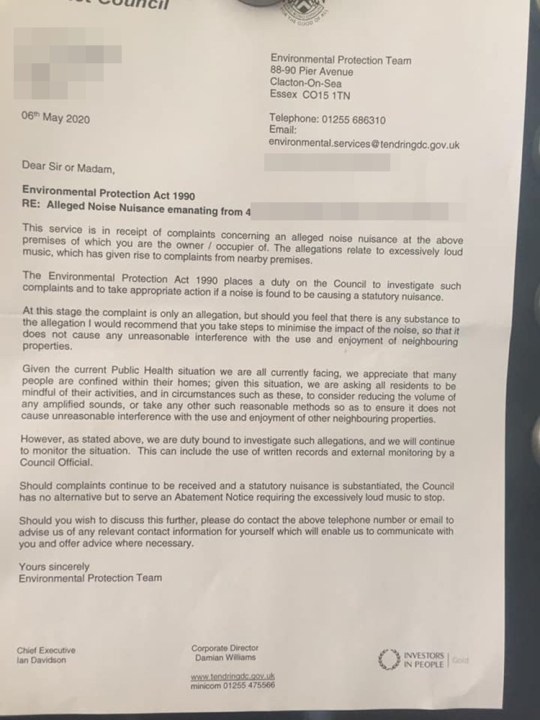 He continued:
I would have thought that during this time, we all would need a little boost, a little community spirit and maybe a bit more togetherness. It is a shame for the wonderful people who have supported me.
Heartbreaking stuff. All Ted wanted to do was raise his neighbours' spirits but it sounds like all he's been doing is raising their stress levels instead. I mean I don't know if Ted is any good at karaoke but even so I could see it becoming a bit annoying if he's out there on his driveway belting out tunes every day. Especially if I was working from home or had an important phone call to make or something. Oh well, it's the thought that counts I suppose.
For the Aldi shopper demanding an apology after he was humiliated at the checkout, click HERE. Serious stuff.