If we needed any more proof that the United States had pretty much turned into one of those reality TV shows that is so awful that you still tune in to because you can't look away, then it's come with the news that Donald Trump has appointed WWE president Vince McMahon as a special advisor to kickstart the economy.
Featured Image VIA
The President announced that he put together a group featuring the commissioners of the nations top sport leagues and other executives in order to get live sports back as soon as possible after the virus in order to stimulate the economy. As well as Vince McMahon, the group includes NBA's Adam Silver, NFL chief Roger Goodell, MLB's Rob Manfred and NHL boss Gary Bettman. Furthermore, he noted that UFC president Dana White is part of the team, alongside Dallas Mavericks owner Mark Cuban and New England Patriots owner Robert Kraft.
Cool. Hopefully they get a sweet stable name like 'The Phoenix Alliance' or something.
Here's what Trump said when he made the announcement at The White House press briefing on Tuesday night: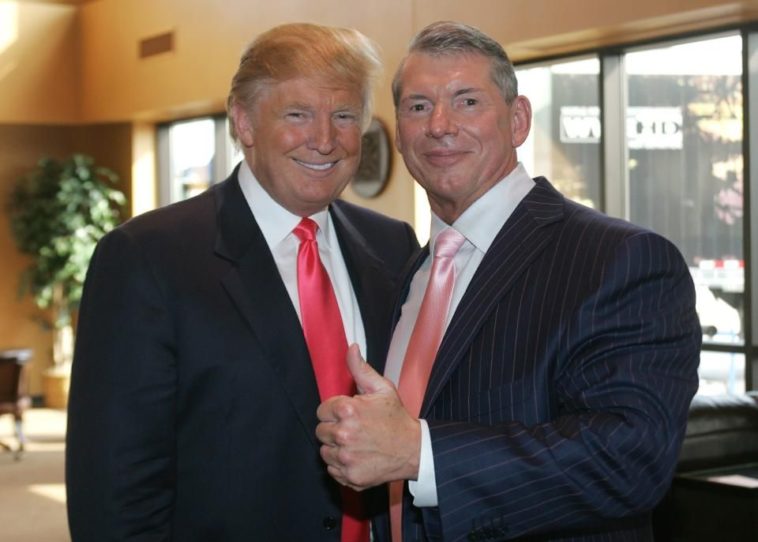 We have to get our sports back, I'm tired of watching baseball games that are 14 years old.

I haven't actually had too much time to watch – I would say maybe I watch one batter and then I get back to work.
Doing a great job there Donald as well.
In all seriousness though it might sound stupid that Trump is roping in Vince McMahon to help him, but the fact is that both of them are hugely successful businessmen and the WWE is a massive party of the US economy, so it makes perfect sense for him to be on this advisory board. Don't @ me.
For more of the same, here's Donald Trump using WWE footage to show him beating up CNN. Excellent.