A lot of people have debated over the years as to whether Bigfoot is real and exists. Turns out he does. And he lives in Britain. Apparently.
Featured Image VIA
Caroline Toms was walking her dog Ash in Arundel, West Sussex, when she claims Bigfoot ran past her. Luckily she had her camera handy, because it meant she could capture this grainy, barely legible picture of the beast that cements proof in the minds of all doubters: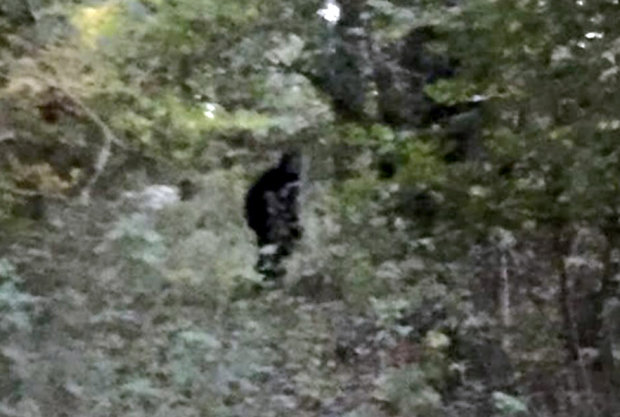 She said:
It all happened so fast.

Ash started acting a little bit bemused and barking. Then she, quick as a flash, shot off into the undergrowth — then I saw this big black thing flash out in front of me.

I only had my camera out because I was taking pictures of Ash playing.

I don't know what it was, but when I had a closer look at the pictures, it certainly does look like Bigfoot.
It certainly does. Ish.
Not everybody is buying into this conclusive evidence though. Unbelievably, there are some skeptics.
A spokesman for the British Big Cat Society said:
That is a bloke in a suit 100 per cent!

I have been doing this for 20 years and I know for a fact that it's not a cat – or Bigfoot – it's a hoax.
Angmering Park Estate, where Bigfoot was spotted, have surprisingly said that they've never had any sightings reported before. You'd thing with that thing wandering around, more people might have seen something. And there we were, thinking he was from Russia.
I'm not sold, personally. There's a few reasons, but let's just stick to the photo – I mean, just look at it. It's a bit weird, yes, but it's hardly a clear HD image that can't be questioned, is it?
What do you reckon?