The old joke that WFH stands for 'Wanking From Home' and not 'Working From Home' has a lot of truth to it in my experience, but it could actually have a whole lot more use during the Coronavirus lockdown if one set of doctors are to be believed.
Featured Image VIA
Dr Jennifer Landham is a hormone therapy specialist who believes that jerking off can strengthen your body's natural defence mechanisms. This theory is actually backed up by some hard evidence as well, with by the Department of Medical Psychology at the University Clinic of Essen in Germany.
The University tracked the white blood cell count of of 11 volunteers before and after climax to determine the effects of masturbation, finding that there was an increase in those infection fighting cells post orgasm. Better get cracking on it then hey?
If you're wondering how often you should be beating off during the lockdown, then apparently it's as much as possible. Not only will this help you fend off the virus, it will also keep you in a good mood too according to sex expert Doctor Nicole Prause: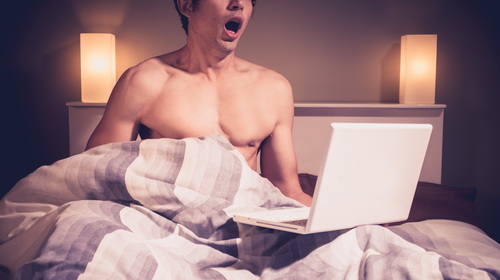 Studies have found that, within the range of sexual frequency that occurred naturally in their study participants, there was no upper limit for the benefits of sex.

Statisticians would say the effects were 'linear'.

For example, when a study reported that life satisfaction was associated with more frequent sex, at no point did they find a turning point where very frequent sex was associated with a decrease in life satisfaction or a plateau in satisfaction.
There's all the evidence you need really. I imagine you've probably become pretty horny right now just reading this article, so go ahead and crack one out now. It'll make you feel better.
For more of the same, check out experts claiming that you should be masturbating at work. Seems obvious doesn't it?